Peacemaker Tries Hard
Cover Price: $29.94
Your Price: $22.50
YOU SAVE 25% OFF
6 issue subscription


FREE U.S. Shipping

Please allow 6-8 weeks for delivery of your first issue.

Get this subscription for 25% OFF!

Rating : Parental Advisory



Last Issue Processed

Peacemaker Tries Hard #6 Cover A Regular Kris Anka Cover
Description
Having earned his release from the Suicide Squad, Peacemaker wants to try and do normal superhero stuff for a change. Unfortunately everyone, including the bad guys, thinks he sucks at superhero stuff. But when busting up a terrorist ring introduces Christopher Smith to the cutest thing to ever walk (awkwardly) on four legs, he finds the unconditional love he's been denied his whole life. That is, until the dog is kidnapped right out from under him by a super-villain who has some very un-super-heroic plans for Peacemaker's brand of ultraviolence. Will he help an infamously unstable super-powered criminal steal the world's most valuable—and dangerous—DNA? Honestly, Christopher's pretty lonely, so it probably just depends on how nicely they ask... Breakout writer Kyle Starks (I Hate This Place, Six Sidekicks of Trigger Keaton) and art legend Steve Pugh (Preacher Special: Saint of Killers, Harley Quinn: Breaking Glass) deliver a brutal and hilarious take on DC's biggest P.O.S. that will bust guts, break bones, and melt hearts!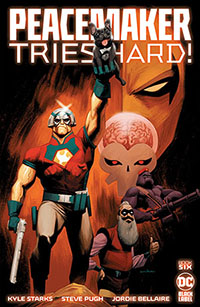 Peacemaker Tries Hard #6 Cover A Regular Kris Anka Cover
Peacemaker took on Deathstroke (kinda), Chemo, even the War Wheel, and can now confidently call himself a hero. But with all the death and destruction...