Multiversity: Harley Screws Up The DCU
Cover Price: $29.94
Your Price: $22.49
YOU SAVE 25% OFF
6 issue subscription


FREE U.S. Shipping

Please allow 6-8 weeks for delivery of your first issue.

Get this subscription for 25% OFF!

Rating : T+



Last Issue Processed

Multiversity Harley Screws Up The DCU #6 Cover A Regular Amanda Conner Cover
Description
Harley's back in Coney for a long-overdue reunion with old friends, old haunts, and...an old time machine? You heard right! A mysterious benefactor has left Harley a time machine, and after giving it about a half second of thought, she decides to take it for a joyride. What could go wrong, right? Funny you should ask. Turns out a quick trip through time can screw up a few things...namely, the entire DC Universe!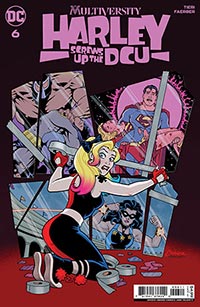 Multiversity Harley Screws Up The DCU #6 Cover A Regular Amanda Conner Cover
She's traversed time and space, fixing everything she messed up, but one (pretty dang big) question remains: Just who the heck gave Harley Quinn a tim...