Lazarus Planet: Legends Reborn
Cover Price: $4.99
Your Price: $3.75
YOU SAVE 25% OFF
1 issue subscription


FREE U.S. Shipping

Please allow 6-8 weeks for delivery of your first issue.

Get this subscription for 25% OFF!

Rating : T+



Last Issue Processed

Lazarus Planet Legends Reborn #1 (One Shot) Cover A Regular Vasco Georgiev Cover
Description
Ancient and dangerous power has been awakened following the eruption of the Lazarus Volcano, and this surge of fantastical power will affect the DC Universe forevermore! In Lazarus Planet: Legends Reborn, we'll explore corners of the planet newly awakened and primed to restore some heroes and villains long forgotten! With the help of Nightwing, can new hero City Boy hope to commune with Gotham in time to save it? Who are the mysterious trio claiming to be resurrected siblings of Raven? How far would the Question go to chase a lead across a transformed Gotham City? And will the flame of Firestorm burn out yet another horrific host? Not if Harley Quinn has anything to say about it!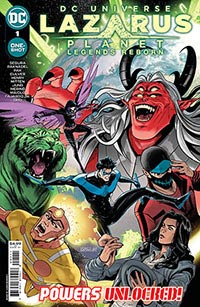 Lazarus Planet Legends Reborn #1 (One Shot) Cover A Regular Vasco Georgiev Cover
NEW FRIENDS...NEW FOES...NEW LEGENDS! Written by Alex Segura, Greg Pak, Alex Paknadel, and Dennis Culver. Art by Clayton Henry, Chris Mitten, Minkyu J...