Batman & The Joker: The Deadly Duo
Cover Price: $34.93
Your Price: $26.20
YOU SAVE 25% OFF
7 issue subscription


FREE U.S. Shipping

Please allow 6-8 weeks for delivery of your first issue.

Get this subscription for 25% OFF!

Rating : Parental Advisory



Last Issue Processed

Batman & The Joker The Deadly Duo #6 Cover A Regular Marc Silvestri Cover
Description
Batman has joined forces with his archnemesis, and things are already off to a rocky start. But time is of the essence as another piece of Commissioner Gordon is delivered to the Gotham City PD. Will Batman be able to work fast enough to save his dear friend, or whatever is left of him?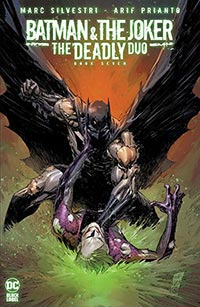 Batman & The Joker The Deadly Duo #7 Cover A Regular Marc Silvestri Cover
Batman and the Joker have fought across streets, rooftops, railways and caverns, against horrors beyond of their wildest nightmares. Deep underground,...