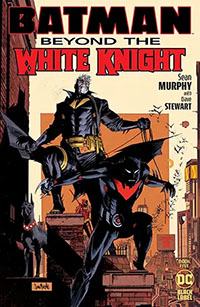 A lot can change in 10 years, especially in Gotham! Batman, a.k.a. Bruce Wayne, may be behind bars, but the real criminals are still out there. Gotham Motors CEO Derek Powers has seized control of the Wayne family's assets and is using them to transform the GTO and the city they've sworn to protect. Crime is down, but at what cost? A new Batman has emerged in Powers's city, and only Bruce is fully aware of the dangers to come. It's time to destroy the mantle for good, but he'll need one of his forgotten sons' help to do so. Enter Jason Todd…the first Robin?! In this thrilling sequel to the blockbuster comic book hits Batman: White Knight and Batman: Curse of the White Knight, writer/artist Sean Murphy invites the audience to go beyond the Gotham they know to discover an engrossing new take on the city and its heroes. Welcome to Neo-Gotham and the world of Beyond the White Knight!
RECENT TALENT:
Tags for this comic:
» Rating » T+
» Last Issue Processed » Batman Beyond The White Knight #1 Cover A Regular Sean Murphy Cover
Cover Price: $39.92
You Save 25%
Your Price : $29.95
• 8 issue subscription
FREE U.S. SHIPPING
Please allow 6-8 weeks for delivery of your first issue.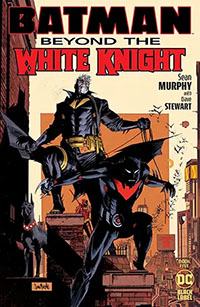 Batman Beyond The White Knight #5 Cover A Regular Sean Murphy Cover
Gotham's most wanted, Jackie Quinzel, has been spotted at Wayne Industries! Now it's up to the former vigilante Bruce Wayne and his new sidekick, The Joker, to break her out. But Derek Powers is always one step ahead, with tech ready to combat any tricks they may have up their sleeves. Is the dynamic duo doomed? Or will a dark knight in future-tech armor come to their rescue?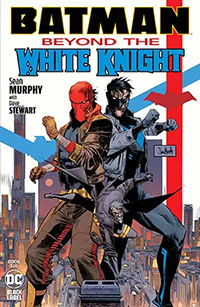 Batman Beyond The White Knight #6 Cover A Regular Sean Murphy Cover
After years of rivalry, it's the showdown you've been waiting for...Jason Todd versus Dick Grayson! Who's the best Robin? Find out this issue! Plus, with the help of an unexpected new ally, Bruce Wayne aims to take Derek Powers down for good. But will the malevolent millionaire's newfound powers prove to be too much for the former Batman?