Aquamen
Cover Price: $47.88
Your Price: $28.99
YOU SAVE 39% OFF
12 issue subscription


FREE U.S. Shipping

Please allow 6-8 weeks for delivery of your first issue.

Get this subscription for 44% OFF!

Rating : T+



Last Issue Processed

Aquamen #6 Cover A Regular Travis Moore Cover (Dark Crisis Tie-In)
Description
When a terrorist in Middle America is revealed as an Atlantean sleeper agent seemingly gone rogue, the Aquamen—Arthur Curry and Jackson Hyde—are on the case. But it soon becomes clear that the tragedy was not just a single bad actor, but the beginnings of a much larger and more dangerous chain reaction…and the heart of an explosive Atlantean conspiracy! If Arthur's not careful, the secrets he's keeping—from Mera, Tula, Tempest, Atlantis, the surface, and even Jackson—could cause a rift from which the Aquamen might never recover!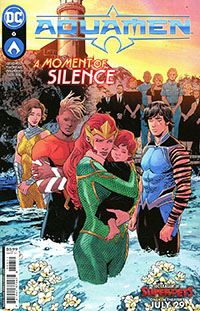 Aquamen #6 Cover A Regular Travis Moore Cover (Dark Crisis Tie-In)
A Dark Crisis tie-in issue! After hearing about Arthur's death, Mera and the others must each find a way to come to terms with their loss and move for...