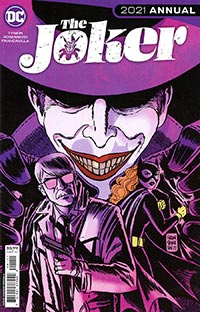 A collection of 2021 Annuals featuring Batman and Gotham city. Subscribe to this collection and have these five titles sent right to your door: Batman 2021 Annual #1, The Joker 2021 Annual #1, Detective Comics 2021 Annual #1, Nightwing 2021 Annual #1, and Robin 2021 Annual #1.
RECENT TALENT:
Writer:
James Tynion IV - Matthew Rosenberg
Artist:
Francesco Francavilla
Tags for this comic:
» Rating » T+
Cover Price: $29.95
You Save 30%
Your Price : $20.99
• 5 issue subscription
FREE U.S. SHIPPING
Please allow 6-8 weeks for delivery of your first issue.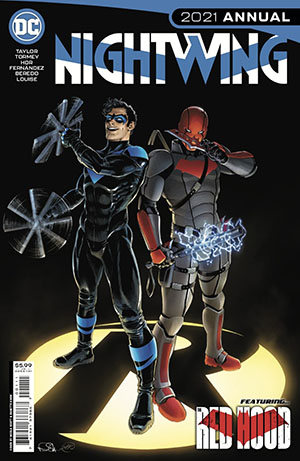 Nightwing Vol 4 2021 Annual #1 (One Shot) Cover A Regular Nicola Scott Cover
Dick Grayson and Jason Todd, the first Robins, both long ago stepped out of the shadow of the Bat and began walking very different paths on their respective journeys to become who they are today. But now their paths converge and these two brothers unite for one goal. With escrima stick and a crowbar combined, Nightwing and Red Hood are ready for anything...anything except what they have to face next! Don't miss out on this explosive adventure!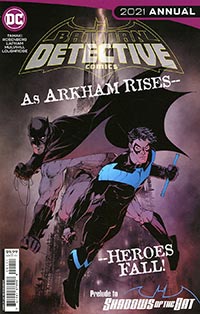 Detective Comics Vol 2 2021 Annual #1 (One Shot) Cover A Regular Viktor Bogdanovic Cover
"We don't choose who we save, Bruce. You treat the patient who needs your help."—Thomas Wayne "Shadows of the Bat" begins here! In the prelude to January's epic new Detective Comics event, Mayor Nakano has signed off on the construction of a new Arkham Tower in the heart of Gotham City, and the Bat-Family is torn. Batman has long seen Arkham as a necessary, if flawed, cog in the gears of Gotham City—a temporary solution to larger problems that in many ways mirrors his approach as Batman. Nightwing, however, who grew up watching Arkham mutate into a villain factory, believes a different approach is needed. But Bruce and Dick will need to see eye to eye on more than just Arkham Tower, as a new villain known as THE MAEGER MAN wreaks havoc in the streets and becomes the embodiment of Gotham's broken system!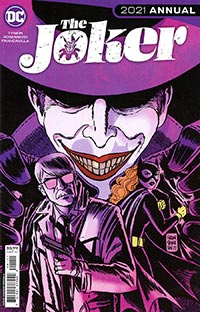 Joker Vol 2 2021 Annual #1 (One Shot) Cover A Regular Francesco Francavilla Cover
His first year of being GCPD police commissioner was an intense challenge for James Gordon. He battled corruption in the ranks, his marriage was in shambles, and the vigilante Batman was clearly welcoming new recruits with the appearance of Batgirl. And The Joker picked his moment to unleash hell!