Batman vs. Bigby
Cover Price: $23.94
Your Price: $17.99
YOU SAVE 25% OFF
6 issue subscription


FREE U.S. Shipping

Please allow 6-8 weeks for delivery of your first issue.

Get this subscription for 25% OFF!

Rating : T+



Last Issue Processed

Batman vs Bigby A Wolf In Gotham #4 Cover A Regular Yanick Paquette Cover
Description
With the blood dry at Gotham's fourth gruesome murder scene in as many weeks, Batman is stumped. the same hallmarks haunt each investigation: brute-force entries, bodies ripped to shreds and stamped with enormous bite marks, and clumps of fur- wolf fur - scattered in the wreckage. The streets buzz with rumors of the "Werewolf of Gotham".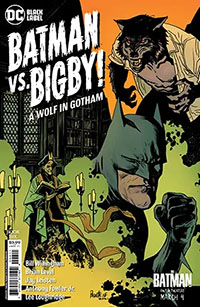 Batman vs Bigby A Wolf In Gotham #6 Cover A Regular Yanick Paquette Cover
The crossover event concludes here! Now that they know the true power in Bookworm's possession, Batman and Bigby must race across Gotham to put an end...