I Am Batman
Cover Price: $59.88
Your Price: $35.93
YOU SAVE 40% OFF
12 issue subscription


FREE U.S. Shipping

Please allow 6-8 weeks for delivery of your first issue.

Get this subscription for 40% OFF!

Rating : T+



Last Issue Processed

I Am Batman #18 Cover A Regular Christian Duce Cover
Description
Future State gave readers a preview of things to come with Jace Fox as the new Batman... but this debut in the core line arrives with a bang! Picking up immediately from the events of The Next Batman: Second Son, Jace thrusts himself into action when the Magistrate's crackdown on Alleytown begins, using armor he's found in the abandoned Hibernaculum.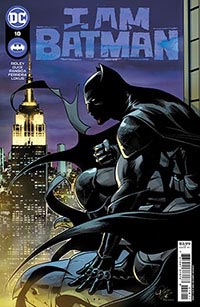 I Am Batman #18 Cover A Regular Christian Duce Cover
Jace Fox is on the most urgent mission of his tenure as Batman: to save the life of his mother. At war with the domestic terror group called the Moral...