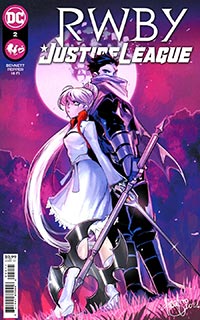 The DC Universe and the world of RWBY collide in this new miniseries! Discover the Bruce Wayne, Clark Kent, and Diana Prince of Remnant as team RWBY comes face to face with new versions of DC's paragons of justice.
RECENT TALENT:
Writer:
Marguerite Bennett
Tags for this comic:
» Rating » T+
» Last Issue Processed » RWBY Justice League #2 Cover A Regular Mirka Andolfo Cover
Cover Price: $27.99
You Save 25%
Your Price : $20.99
• 7 issue subscription
FREE U.S. SHIPPING
Please allow 6-8 weeks for delivery of your first issue.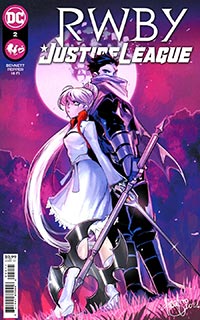 RWBY Justice League #2 Cover A Regular Mirka Andolfo Cover
Weiss comes face to face with a brooding boy accused of theft at the Schnee Dust Company dinner, and in an act of defiance, teams up with him to prove his innocence, combining their shrewd detective skills! And then, the girls reunite at Beacon Academy with their mysterious new friends. Greeted by Professor Ozpin, Team RWBY learns the horrible truth: hunters all over Remnant are disappearing without a trace, and the four girls are all that's left!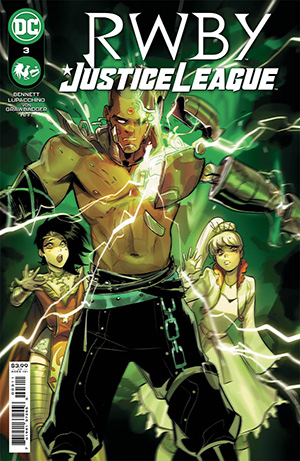 RWBY Justice League #3 Cover A Regular Mirka Andolfo Cover
Ruby and Bruce head to the Faunus Quarter to investigate reports of a red-and-gold blur. But things quickly get out of hand as the blur runs circles around the pair of heroes! Meanwhile, Weiss and Diana infiltrate the Schnee Dust Company and discover a half-man, half-automaton. Can they earn the Cyborg's trust, or will they be assimilated into the circuitry?!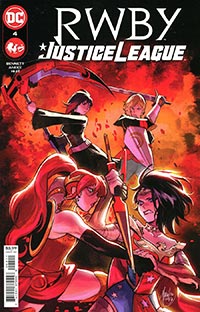 RWBY Justice League #4 Cover A Regular Mirka Andolfo Cover
While searching the harbor, Blake, Yang, and Clark Kent come face to face with a trident-wielding boy who can command sea life. But is this princely boy the one taking control of people all over Remnant? And what is his mysterious connection to Clark? Later, the gang comes back together, but each team was unsuccessful in cracking the mystery surrounding the missing huntsmen. As they discuss their findings, Team RWBY is ambushed by their brainwashed friends! They'll need a savior from above in order to surmount these odds!