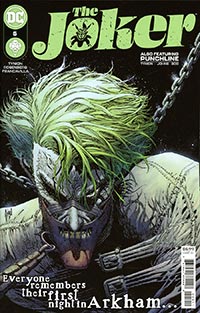 The Joker Faces A Worldwide Manhunt, A Determined EX-Cop and Mysterious New Enemies in The Joker, An All-New Ongoing Monthly Series from DC!
RECENT TALENT:
Writer:
James Tynion IV - Matthew Rosenberg - Sam Johns
Artist:
Francesco Francavilla - Sweeney Boo
Tags for this comic:
» Rating » T+
» Last Issue Processed » Joker Vol 2 #1 Cover A Regular Guillem March Cover
Cover Price: $59.88
You Save 40%
Your Price : $35.95
• 12 issue subscription
FREE U.S. SHIPPING
Please allow 6-8 weeks for delivery of your first issue.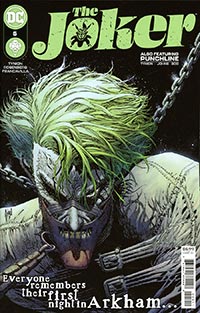 Joker Vol 2 #5 Cover A Regular Guillem March Cover
The never-before-seen tale of The Joker's first night in Arkham Asylum is finally revealed! When a lunatic in a clown suit tries to poison Gotham City's reservoir and is placed in Arkham Asylum before his trial, Detective Jim Gordon realizes something's different about this new inmate that could forever change the future of Gotham. Backup: Rising-star artist Sweeney Boo joins the series as things get worse and worse for Punchline and Bluebird. Punchline's prison war against the Queen of Spades escalates, and no prisoner at Blackgate Penitentiary will be exempt from choosing sides. And after barely escaping death at the hands of Punchline's former accomplice, will Bluebird have the will to continue her investigation and find the mysterious woman from Punchline's past who has the answers she's looking for?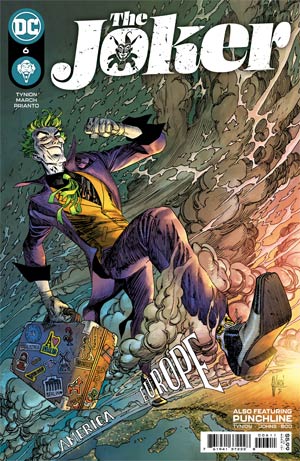 Joker Vol 2 #6 Cover A Regular Guillem March Cover
After barely surviving in the jungles of Belize, The Joker flees to Europe! Jim Gordon pursues the madman, but the seeds of doubt begin to sprout...if The Joker didn't gas Arkham Asylum, who did? And what's the next move for Vengeance, daughter of Bane? Backup: Punchline's takeover of Blackgate Penitentiary continues as her most insidious goal becomes clear: find a woman she used to call her friend in her college days and make her pay for her betrayal. On the outside, Harper Row tries to pull her brother, Cullen, back from the brink of Jokerized radicalization!