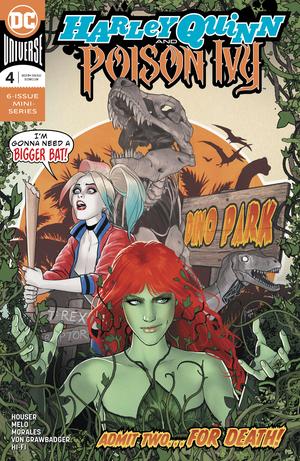 Spinning out of the Heroes In Crisis story, the world is looking a bit different for the dastardly duo of Poison Ivy and Harley Quinn. the explosive events at Sanctuary left Poison Ivy dead and Harley Quinn teaming up with Batgirl! Now, Poison Ivy has been resurrected by the plants and Harley Quinn is working to re-build bridges between her and the heroes of the DCU. With so much reinvention going on, it's the perfect time for this dynamic duo to team up and find their bearings together. It's all in the pages of this six-issue mini-series contained in the DCU continuity from writer Jody Hauser and artist Adriana Melo!
RECENT TALENT:
Artist:
Adriana Melo - Mark Morales
Tags for this comic:
» Rating » T+
» Last Issue Processed » Harley Quinn And Poison Ivy #3 Cover A Regular Mikel Janin Cover
Cover Price: $24.94
You Save 25%
Your Price : $18.70
• 6 issue subscription
FREE U.S. SHIPPING
Please allow 6-8 weeks for delivery of your first issue.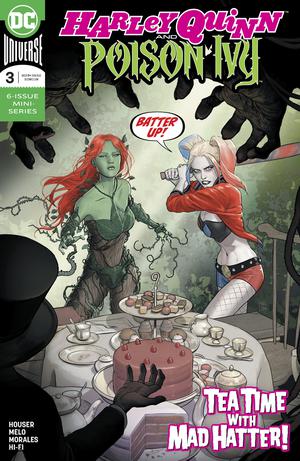 Harley Quinn And Poison Ivy #3 Cover A Regular Mikel Janin Cover
Down the rabbit hole and through the looking glass, and what did Harley and Ivy find there? A tea party with some very unexpected and uninvited guests! It turns out the Mad Hatter has a game of his own to play, and Poison Ivy and Harley Quinn must decide between fight and flight. And is that gift Lex Luthor dropped off for Ivy actually of any use, or is it just a steaming pile of manure?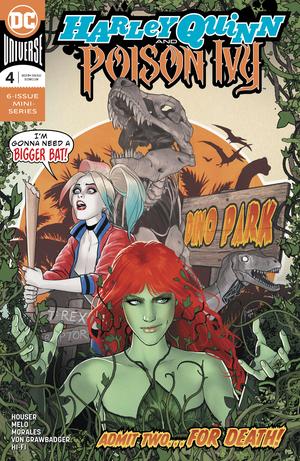 Harley Quinn And Poison Ivy #4 Cover A Regular Mikel Janin Cover
The hits just keep on coming as Harley Quinn and Poison Ivy crawl away from the rabbit hole that is the Mad Hatter's endless tea party and get back on the road- but when they take a rest in a seemingly abandoned dinosaur theme park, they may not be the only clever girls hanging around...