Up in the sky, in the dark of the night, trust no one for the Secret Six walk among us. Spinning out of the devastating events of THE BATMAN WHO LAUGHS, Superman and Batman are together once more in an all-new monthly series.
RECENT TALENT:
Artist:
Ivan Reis - Danny Miki
Tags for this comic:
» Rating » T
» Last Issue Processed » Batman Superman Vol 2 #17 Cover A Regular Ivan Reis & Danny Miki Cover
Cover Price: $47.88
You Save 40%
Your Price : $28.96
• 12 issue subscription
FREE U.S. SHIPPING
Please allow 6-8 weeks for delivery of your first issue.
Batman Superman Vol 2 #17 Cover A Regular Ivan Reis & Danny Miki Cover
In a world where Superman's rocket never reached Earth, the Dark Knight and his sidekick discover a startling rift between dimensions. On the other side? A world where Martha Wayne survived, and Bruce never grew up to be Batman! Not only that, but a strange alien has emerged from the rift who's faster than a locomotive and can leap tall buildings in a single bound... the Superman of Metropolis! When these worlds collide, the architects of this alternate history are revealed, and the only ones who can thwart their deadly experiments are the Batman and Superman of Earth-0! It's a dynamic dual-world adventure!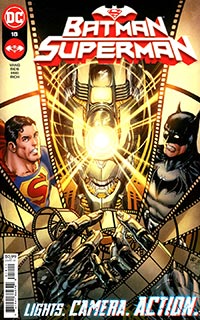 Batman Superman Vol 2 #18 Cover A Regular Ivan Reis Cover
The Dark Knight and the Man of Steel are on a mission to stop the godlike Auteur.io from destroying the pocket worlds he's created...but where on Earth did Auteur.io even come from? The answer starts not on Earth at all, but with an ancient cult of World Forger worshippers on a planet far away—and if our heroes are to have a prayer of stopping this mythic behemoth, they'll need to get to the bottom of his power source, and quick! It's a race against time as the parallel lives of entire worlds hang in the balance!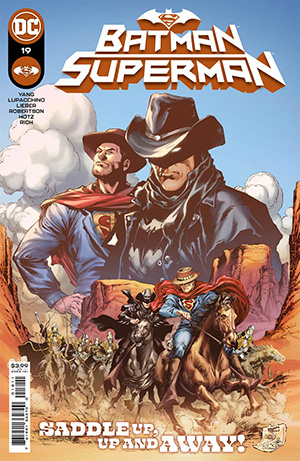 Batman Superman Vol 2 #19 Cover A Regular Ivan Reis Cover
To thwart the apocalypse cascading across multiple realities, Batman and Superman must join forces with their counterparts and sojourn to strange lands! The World of the Knight and the World of Tomorrow are not the only two creations crafted by the sinister Auteur.io — and this nefarious cybernetic despot is hell-bent on at last crafting his own twisted notion of utopia. Join a list of all-star artists as we tour through the ARCHIVE OF WORLDS!