SHAZAM!
Cover Price: $47.88
Your Price: $28.96
YOU SAVE 40% OFF
12 issue subscription


FREE U.S. Shipping

Please allow 6-8 weeks for delivery of your first issue.

Get this subscription for 44% OFF!

Rating : T



Last Issue Processed

Knight Terrors SHAZAM #2 Cover A Regular Dan Mora Cover
Recent Talent
Writer:

Mark Waid

Artist:

Dan Mora

Release Date:

10/3/2023
Description
he World's Finest creators present the World's Mightiest Mortal in a dazzling solo series! Dinosaurs from space! The Clubhouse of Eternity! Homicidal worms and talking tigers! Atomic robots, alien worlds, mad scientists, sinister curses, and villains from throughout the DC Universe—welcome to the wild adventures of Billy Batson, whose big red alter ego defends the Earth from its weirdest and wildest threats! Want to stop Lex Luthor and The Joker? Call Superman and Batman! International crises? Page Wonder Woman! But when Garguax, Emperor of the Moon, sets his sights on Gorilla City, that's when you shout "Shazam!" The fan-favorite team of Mark Waid and Dan Mora (Batman/Superman: World's Finest) brings the magic!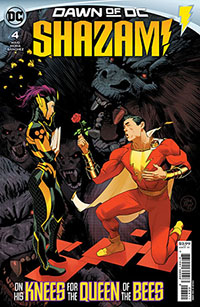 SHAZAM Vol 4 #4 Cover A Regular Dan Mora Cover
MARK WAID AND DAN MORA TURN EVERYTHING YOU KNOW ABOUT THE WORLD'S MIGHTIEST MORAL ON ITS HEAD! Shadiness. Hatefulness. Arrogance. Zeal. Anger. Malice....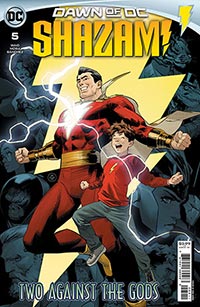 SHAZAM Vol 4 #5 Cover A Regular Dan Mora Cover
The Captain's battle against the forces of the Moon Emperor may orbit the absurd...but it's full of action that will leave you...Apollo? (You can crea...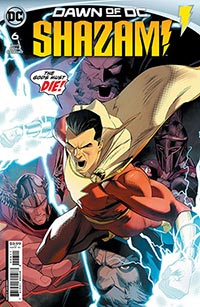 SHAZAM Vol 4 #6 Cover A Regular Dan Mora Cover
"Meet the Captain!" reaches its action-packed finale when Billy is forced to battle the very six gods who give him his magic abilities--a fight he can...