Several years ago, Batman personally put the Barrera family into hiding after they suffered through terrible experiments at the hands of an organization called the Ark. Now, all but one of them has turned up dead and Batman needs to locate Sofia Barrera before the wrong people get their hands on her! It's time to call in Black Lightning, Katana, the Signal, and Orphan – The Outsiders! Writer Bryan Edward Hill teams up for artist Dexter Soy for Batman and the Outsiders!
RECENT TALENT:
Tags for this comic:
» Rating » T+
» Last Issue Processed » Batman And The Outsiders Vol 3 #6 Cover A Regular Tyler Kirkham Cover (Year Of The Villain Doom Rising Tie-In)
Cover Price: $47.88
You Save 40%
Your Price : $28.96
• 12 issue subscription
FREE U.S. SHIPPING
Please allow 6-8 weeks for delivery of your first issue.
Batman And The Outsiders Vol 3 Annual #1
The soul of Katana's husband, Maseo, is experiencing great unrest within her sword! The Outsiders must find a way to relieve him, or else the blade itself may shatter, unleashing not only Maseo but whatever unknown spirits and sorcery are trapped with him in the Pandora's box of Katana's blade!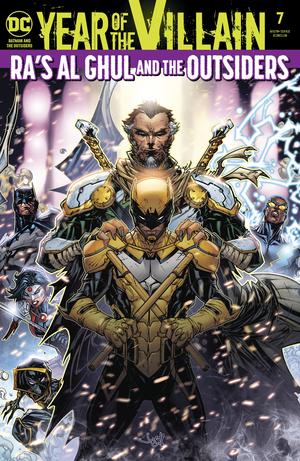 Batman And The Outsiders Vol 3 #7 Cover A Regular Jonboy Meyers Acetate Cover (Year Of The Villain Hostile Takeover Tie-In)
Unable to cope with Black Lightning and Batman's methods, Duke Thomas finds refuge in the philosophy of Ra's al Ghul, becoming the latest acolyte of the Demon, as Ra's at last begins to rebuild his empire!