From the pages of Justice League: No Justice! Earth's magic once belonged to them. Now they want the magic back. But who exactly are they? It's up to the new Justice League Dark To find out and stop this nightmarish new threat at all costs?! After the events of No Justice, team leader Wonder Woman guides the misfit magic mix of Zatanna, Swamp Thing, Man-Bat, and Detective Chimp Against enemies too fantastic for the Justice League. Plus, what awful things are coming through the Tree of Wonder? Dark Days Ahead.
RECENT TALENT:
Artist:
Alvaro Eduardo Martinez Bueno - Raul Fernandez
Tags for this comic:
» Last Issue Processed » Justice League Dark Vol 2 #12 Cover A Regular Alvaro Martinez Bueno & Raul Fernandez Cover
Cover Price: $47.88
You Save 40%
Your Price : $28.96
• 12 issue subscription
FREE U.S. SHIPPING
Please allow 6-8 weeks for delivery of your first issue.
Justice League Dark Vol 2 #12 Cover A Regular Alvaro Martinez Bueno & Raul Fernandez Cover
Newly powered up by Mordru, the Justice League Dark have become the Lords of Chaos to stop Doctor Fate before it's too late! But will this deal with the devil cost more than Wonder Woman and her team bargained for?
RATED T+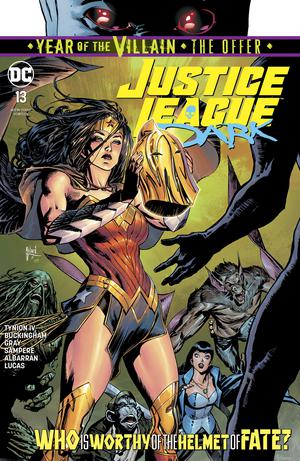 Justice League Dark Vol 2 #13 Cover A Regular Guillem March Cover (Year Of The Villain The Offer Tie-In)
Their battle against Doctor Fate may have come to an end, but the Justice League Dark's problems are just beginning when the helmet begins its search for a new host. Meanwhile, what can Lex Luthor offer a magic user like Circe? For one thing, Lex knows a thing or two about monsters. And where Circe can find them.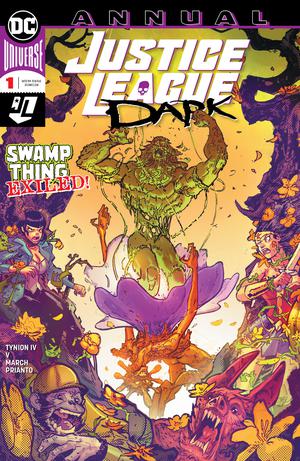 Justice League Dark Vol 2 Annual #1
Swamp Thing takes center stage in this one-of-a-kind story that will change the Green forever! After the fall of the Parliament of Trees, the Parliament of Flowers and its new guardian have risen. It's now up to Alec Holland to convince him to become a benevolent protector of the world, but little does he know, a foe from his past, the Floronic Man, is trying to sway the guardian as well. Which path will the King of Petals choose? The fate of mankind depends on it!