From the pages of Justice League: No Justice! Earth's magic once belonged to them. Now they want the magic back. But who exactly are they? It's up to the new Justice League Dark To find out and stop this nightmarish new threat at all costs?! After the events of No Justice, team leader Wonder Woman guides the misfit magic mix of Zatanna, Swamp Thing, Man-Bat, and Detective Chimp Against enemies too fantastic for the Justice League. Plus, what awful things are coming through the Tree of Wonder? Dark Days Ahead.
RECENT TALENT:
Writer:
James Tynion IV - Ram V
Tags for this comic:
» Last Issue Processed » Justice League Dark Vol 2 #22 Cover A Regular Yanick Paquette Cover
Cover Price: $47.88
You Save 40%
Your Price : $28.96
• 12 issue subscription
FREE U.S. SHIPPING
Please allow 6-8 weeks for delivery of your first issue.
Justice League Dark Vol 2 #22 Cover A Regular Yanick Paquette Cover
What dreams may come-we should be so lucky! Instead, the nightmares are here! Zatanna and John Constantine take a dive into the mind of Abigail Arcane to save her from the all-consuming Rot, while Animal Man must reach deep within himself to save Detective Chimp and Wonder Woman from the hordes of infected rot monsters. Minds, worlds, and lives hang in the (im)balance!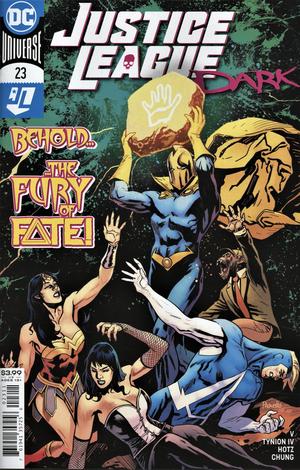 Justice League Dark Vol 2 #23 Cover A Regular Yanick Paquette Cover
"The Parliament of Life" concludes-as the world burns! The villain at the dark heart of the war between the parliaments stands revealed as Anton Arcane! Zatanna lies wounded, her destiny now in jeopardy. Doctor Fate, Wonder Woman, and Animal Man must form an uneasy alliance with Abigail Arcane and the Floronic Man to protect humanity's fate. Betrayals and twists abound, with repercussions for the very future of the Justice League Dark!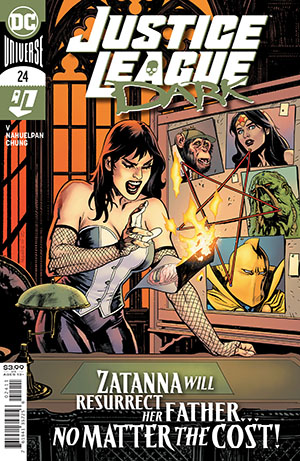 Justice League Dark Vol 2 #24 Cover A Regular Yanick Paquette Cover
At last, Justice League Dark's mission reaches the moment fans have been waiting for: their descent into the Other Place, as a reborn Swamp Thing, Wonder Woman, and Zatanna sharpen their swords and spells to battle the Upside Down Man. But Zatanna has more than just cards up her sleeve. The team discovers her burning secret, while Detective Chimp must come to terms with his own role within Team Dark.