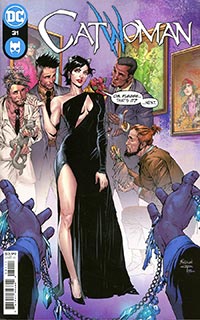 The wedding night's barely over, but Catwoman's back on the streets, this time To expose a copycat who's pulling heists around Gotham City. As Selina cracks the whip on her former Criminal cohorts, she's attracting unwanted attention from one of Gotham's most dangerous groups. The Mob? Nope. Try the GCPD. And as if the Bat-Bride didn't have enough problems, don't miss The debut of an all-new villain determined to make trouble for all nine of Selina's lives. Don't miss the start Of an all-new monthly series written and illustrated by Eisner Award-nominee Joelle Jones.
RECENT TALENT:
Cover Price: $47.88
You Save 40%
Your Price : $28.96
• 12 issue subscription
FREE U.S. SHIPPING
Please allow 6-8 weeks for delivery of your first issue.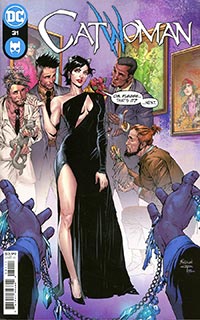 Catwoman Vol 5 #31 Cover A Regular Robson Rocha Cover
Catwoman and Shoes have crashed Mr. Roy's home art gallery opening, but they aren't there to nick a Klimt or a Monet. No, they're after the newest addition to Mr. Roy's esteemed collection: a large test tube containing Poison Ivy! But how did Pamela get in this predicament in the first place, what was done to her, and why does she seem...different?
Catwoman Vol 5 #32 Cover A Regular Robson Rocha Cover
Who is Selina Kyle? That's the question that Father Valley has taken to the streets to find out. From her humble beginnings as an Alleytown kid to her greatest heists as Catwoman, all will be revealed. Because when Father Valley asks a question, it's best to answer...but when he's already quoting verses, pray that it's not already too late for you. >Proverbs, 25:2.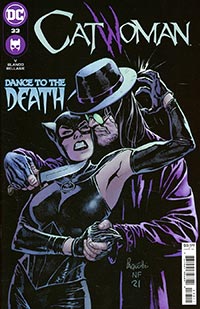 Catwoman Vol 5 #33 Cover A Regular Yanick Paquette Cover
Selina has worked hard to establish herself as the queen of Alleytown. But in response to Catwoman saving Poison Ivy from extermination at the hands of Saint Industries, Simon Saint has sent in the early stages of a totalitarian force that has left her kingdom shuttered. Catwoman has seen a man take his own life to avoid the consequences of crossing Saint Industries, so she knows there is no telling what they have in store for her and her gang of strays. And to make matters worse, Alleytown's eerily quiet and empty streets now set the stage for the long-awaited confrontation between Catwoman and Father Valley!