Catwoman
Cover Price: $47.88
Your Price: $28.96
YOU SAVE 40% OFF
12 issue subscription


FREE U.S. Shipping

Please allow 6-8 weeks for delivery of your first issue.

Get this subscription for 40% OFF!

Last Issue Processed

Catwoman Vol 5 #58 Cover A Regular David Nakayama Cover (The Gotham War Part 5)
Recent Talent
Writer:

Tini Howard

Artist:

Nico Leon

Release Date:

10/17/2023
Description
The wedding night's barely over, but Catwoman's back on the streets, this time To expose a copycat who's pulling heists around Gotham City. As Selina cracks the whip on her former Criminal cohorts, she's attracting unwanted attention from one of Gotham's most dangerous groups. The Mob? Nope. Try the GCPD. And as if the Bat-Bride didn't have enough problems, don't miss The debut of an all-new villain determined to make trouble for all nine of Selina's lives. Don't miss the start Of an all-new monthly series written and illustrated by Eisner Award-nominee Joelle Jones.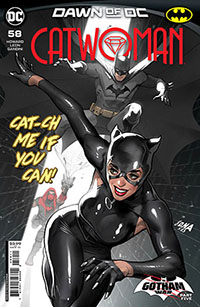 Catwoman Vol 5 #58 Cover A Regular David Nakayama Cover (The Gotham War Part 5)
THE PENULTIMATE CHAPTER OF THE GOTHAM WAR! Every general puts their plans into play as Selina Kyle's cat's cradle threatens to pull the city apart. Re...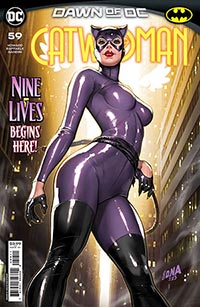 Catwoman Vol 5 #59 Cover A Regular David Nakayama Cover
"Nine Lives" part one. The Catwoman we know has vanished. Selina Kyle is gone. She's no longer Gotham's fugitive--she's its ghost. After the events of...