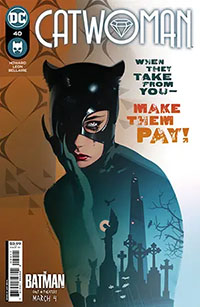 The wedding night's barely over, but Catwoman's back on the streets, this time To expose a copycat who's pulling heists around Gotham City. As Selina cracks the whip on her former Criminal cohorts, she's attracting unwanted attention from one of Gotham's most dangerous groups. The Mob? Nope. Try the GCPD. And as if the Bat-Bride didn't have enough problems, don't miss The debut of an all-new villain determined to make trouble for all nine of Selina's lives. Don't miss the start Of an all-new monthly series written and illustrated by Eisner Award-nominee Joelle Jones.
RECENT TALENT:
Cover Price: $47.88
You Save 40%
Your Price : $28.96
• 12 issue subscription
FREE U.S. SHIPPING
Please allow 6-8 weeks for delivery of your first issue.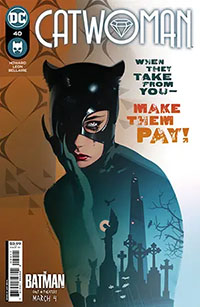 Catwoman Vol 5 #40 Cover A Regular Jeff Dekal Cover
If I told you that there is a whole retro-glam apartment building in Gotham called the Trixie that houses mob wives, side chicks, and mistresses, and Catwoman has secretly taken a whole floor to herself eavesdropping on mob wives and mistresses to blackmail them, would you believe me? Of course you wouldn't, because the last thing you want is to be caught knowing those truths at the only place in Gotham you can actually get away with murder.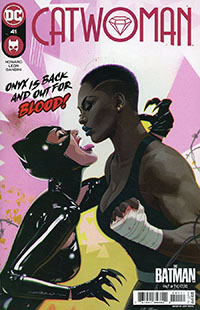 Catwoman Vol 5 #41 Cover A Regular Jeff Dekal Cover
With Batman out of the picture, Catwoman would be wise to remember that there are more than bats in Gotham's belfries. Speaking of bats, Onyx returns to her home city to bat cleanup and make sure Catwoman's not letting any strays into her city...and with no big Bat in the shadows, those pesky no-killing rules are off the table. Let's see if Catwoman and Onyx can agree on a target…