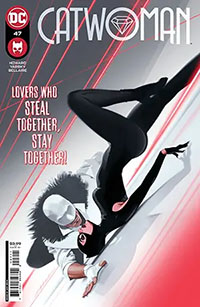 The wedding night's barely over, but Catwoman's back on the streets, this time To expose a copycat who's pulling heists around Gotham City. As Selina cracks the whip on her former Criminal cohorts, she's attracting unwanted attention from one of Gotham's most dangerous groups. The Mob? Nope. Try the GCPD. And as if the Bat-Bride didn't have enough problems, don't miss The debut of an all-new villain determined to make trouble for all nine of Selina's lives. Don't miss the start Of an all-new monthly series written and illustrated by Eisner Award-nominee Joelle Jones.
RECENT TALENT:
Cover Price: $47.88
You Save 40%
Your Price : $28.96
• 12 issue subscription
FREE U.S. SHIPPING
Please allow 6-8 weeks for delivery of your first issue.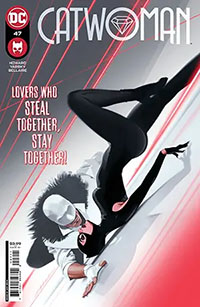 Catwoman Vol 5 #47 Cover A Regular Jeff Dekal Cover
Things start to heat up between Valmont and Catwoman when the handsome devil in white shows Catwoman a grand gesture by taking her on a trip out of Gotham. How many high-roller cities can these two cat burglars hit for a score in one night? A crow in white and a bat in black—if only there was a moral gray zone for this one cat.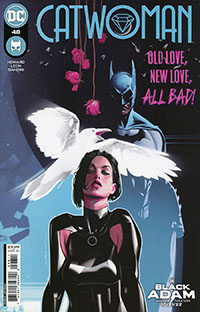 Catwoman Vol 5 #48 Cover A Regular Jeff Dekal Cover
Don't you just hate it when your current and former lovers meet accidentally? That's definitely the case here for Catwoman, as Valmont and Batman cross paths! Is Batman jealous or just concerned that Selina is dating an international criminal who is also a murderer? There are some lines you just don't cross, Cat, and not all attention is good attention.