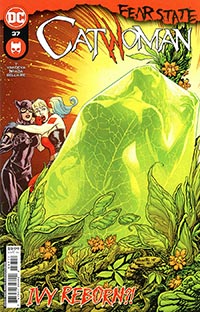 The wedding night's barely over, but Catwoman's back on the streets, this time To expose a copycat who's pulling heists around Gotham City. As Selina cracks the whip on her former Criminal cohorts, she's attracting unwanted attention from one of Gotham's most dangerous groups. The Mob? Nope. Try the GCPD. And as if the Bat-Bride didn't have enough problems, don't miss The debut of an all-new villain determined to make trouble for all nine of Selina's lives. Don't miss the start Of an all-new monthly series written and illustrated by Eisner Award-nominee Joelle Jones.
RECENT TALENT:
Cover Price: $47.88
You Save 40%
Your Price : $28.96
• 12 issue subscription
FREE U.S. SHIPPING
Please allow 6-8 weeks for delivery of your first issue.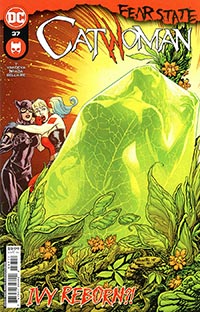 Catwoman Vol 5 #37 Cover A Regular Yanick Paquette Cover (Fear State Tie-In)
Catwoman's attempts to keep Alleytown, and those around her, safe from collateral damage have failed. Simon Saint, the Wight Witch, Father Valley, and the Magistrate have all compromised her newly founded kingdom and brought her entire life to the brink. But despite Selina's dreams of queenhood crashing down around her, there is still hope in the form of the Alleytown Strays. Could these children, trained by Selina, be her salvation? Or will they, too, pay for their involvement with Catwoman with their lives? And with Queen Ivy and Ivy aware of each other now, will they destroy the city or become one again?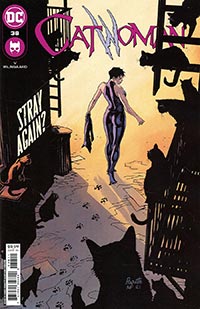 Catwoman Vol 5 #38 Cover A Regular Yanick Paquette Cover
Fear State aftermath! A "new" Poison Ivy now walks the Earth, one who seems more familiar to Harley Quinn and Catwoman than she ever has been before. And as the dust of Fear State settles in Alleytown, Selina comes to the heartbreaking conclusion that it may be time to surrender her crown and leave her kingdom. She has brought too much damage, too much horror, to her adoptive city. But are the Strays ready to take on the responsibility of defending their homes without the help and guidance of the Catwoman? And what is to become of Catwoman's protégé herself, Cheshire Cat?