Diana of Themyscira was born into a paradise unlike anything known by man. Raised by the mighty Amazons, Diana was taught to uphold the values of virtue, honor, and compassion. But when the world found itself engulfed in war, Diana would leave paradise to fight for justice as Wonder Woman! Now a crusader for all people, Diana shares the values that she was raised on with the world. As an icon for female empowerment and one of the most popular heroes of all time, Wonder Woman stands proudly as a figure of hope for the DC Universe!
RECENT TALENT:
Tags for this comic:
» Rating » T
» Last Issue Processed » Wonder Woman Vol 5 #761 Cover A Regular David Marquez Cover
Cover Price: $47.88
You Save 40%
Your Price : $28.96
• 12 issue subscription
FREE U.S. SHIPPING
Please allow 6-8 weeks for delivery of your first issue.
Wonder Woman Vol 5 #765 Cover A Regular David Marquez Cover
The invisible jet is going down—look out below! On a mission to the heart of super-villain-occupied Zandia, Wonder Woman is stopped dead in her tracks by a turf war that's turning deadlier by the minute. After a heated consult with the Justice League, Diana finds herself on her own with the supposedly reformed Max Lord to complete her mission—and to make matters worse, each side is using Lord Industries' stolen tech to turn their forces into mind-warping super-armies! Who shot down Diana's stealthy ride? The answer will make you dizzy...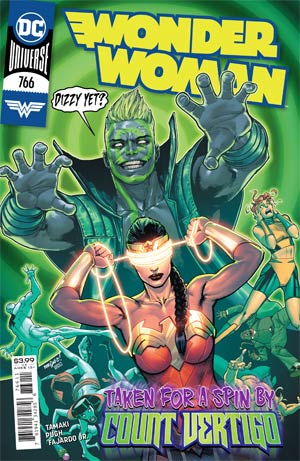 Wonder Woman Vol 5 #766 Cover A Regular David Marquez Cover
Count Vertigo does not like to be treated like a joke. Or...maybe he does? He's kind of insane, after all. When Lord Industries' psychic super-tech amps up the Count's armies to deadly new heights, Wonder Woman sustains injuries that she may never recover from! But never fear, the &QUOTreformed&QUOT Maxwell Lord has Diana's back...and as Diana will find out, he's not afraid to stick a knife in!
Wonder Woman Vol 5 #767 Cover A Regular David Marquez Cover
The final battle between Maxwell Lord and Wonder Woman is here—and it's winner take all in the war-torn nation of Vlatava! This rivalry has spanned many years and many timelines, but Diana of Themyscira has a thing or two to say to her adversary: &QUOTNo more!&QUOT This will be a fight for the ages—we've seen the art, so we know! Plus, don't miss the return of Liar Liar!