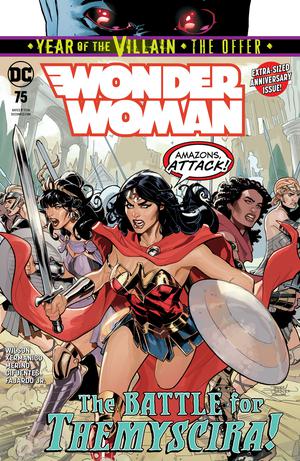 Diana of Themyscira was born into a paradise unlike anything known by man. Raised by the mighty Amazons, Diana was taught to uphold the values of virtue, honor, and compassion. But when the world found itself engulfed in war, Diana would leave paradise to fight for justice as Wonder Woman! Now a crusader for all people, Diana shares the values that she was raised on with the world. As an icon for female empowerment and one of the most popular heroes of all time, Wonder Woman stands proudly as a figure of hope for the DC Universe!
RECENT TALENT:
Tags for this comic:
» Rating » T
» Last Issue Processed » Wonder Woman Vol 5 #76 Cover A Regular Jesus Merino Cover (Year Of The Villain Dark Gifts Tie-In)
Cover Price: $47.88
You Save 40%
Your Price : $28.96
• 12 issue subscription
FREE U.S. SHIPPING
Please allow 6-8 weeks for delivery of your first issue.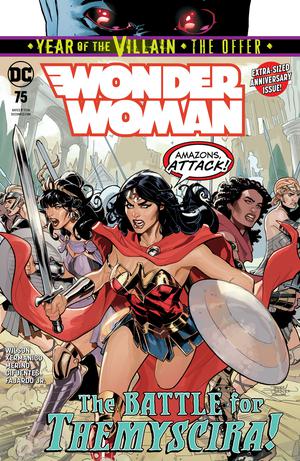 Wonder Woman Vol 5 #75 Cover A Regular Terry Dodson & Rachel Dodson Cover (Year Of The Villain The Offer Tie-In)
At last, after years of exile: Wonder Woman returns to Themyscira! But in the wake of Ares' escape from his prison, the island is no longer the paradise she remembers… and the Amazons are no longer a united people! Disaster has forced Hippolyta's warriors to choose a deadly new ally, and Wonder Woman is powerless to convince them to turn back to the light! Who among the Amazons could possibly change the course of history? Only one: Diana's long-lost aunt, Antiope! A major figure of the Wonder Woman mythos returns in this extra-sized anniversary issue!
Plus, Lex Luthor visits fellow Legion of Doom member Cheetah. He comes bearing gifts: a mythical weapon, one rumored to be able to kill anything-even a god. Or, in Wonder Woman's case, a demi-god.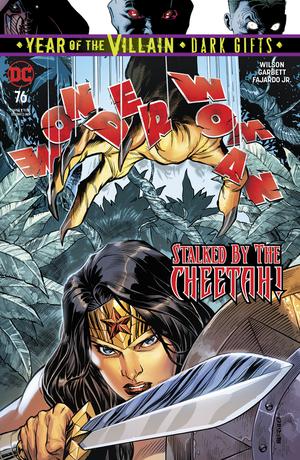 Wonder Woman Vol 5 #76 Cover A Regular Jesus Merino Cover (Year Of The Villain Dark Gifts Tie-In)
Cheetah returns to these pages with a vengeance! Lex Luthor has given his fellow Legionnaire of Doom everything she needs to slake her thirst with Diana's blood…once and for all!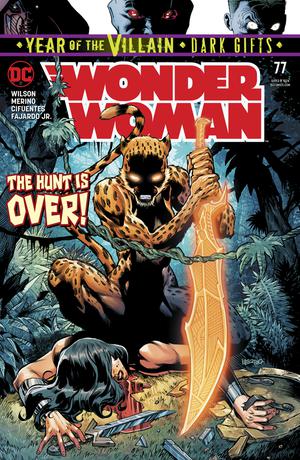 Wonder Woman Vol 5 #77 Cover A Regular Jesus Merino Cover (Year Of The Villain Dark Gifts Tie-In)
The Greek god Hephaestus forged the mythological sword called the God Killer. With its eldritch energies, the sword's wielder can lay waste to armies and, most notably, slay even the mightiest of immortals. Meet its new owner: Cheetah. And that spells bad news for Wonder Woman…