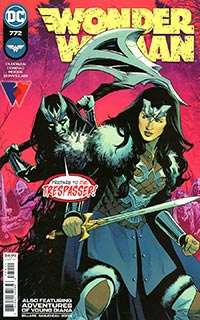 Diana of Themyscira was born into a paradise unlike anything known by man. Raised by the mighty Amazons, Diana was taught to uphold the values of virtue, honor, and compassion. But when the world found itself engulfed in war, Diana would leave paradise to fight for justice as Wonder Woman! Now a crusader for all people, Diana shares the values that she was raised on with the world. As an icon for female empowerment and one of the most popular heroes of all time, Wonder Woman stands proudly as a figure of hope for the DC Universe!
RECENT TALENT:
Writer:
Becky Cloonan - Michael W. Conrad - Jordie Bellaire
Artist:
Travis Moore - Paulina Ganucheau
Tags for this comic:
» Rating » T
» Last Issue Processed » Wonder Woman Vol 5 #772 Cover A Regular Travis Moore Cover
Cover Price: $59.88
You Save 40%
Your Price : $35.93
• 12 issue subscription
FREE U.S. SHIPPING
Please allow 6-8 weeks for delivery of your first issue.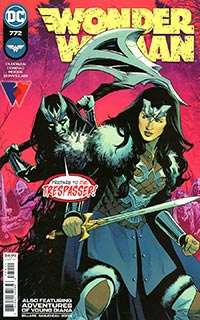 Wonder Woman Vol 5 #772 Cover A Regular Travis Moore Cover
Wonder Woman may have outsmarted the beasts of Asgard for now, but nothing has prepared her for what's to come. Diana's darkest self has emerged as a new opponent, and she'll need help from an unexpected ally whose connection to thunder has inspired many a tale: Thor! Can this god-and-demi-goddess duo find out what has disturbed the balance of things? Or are they doomed to leave everything, including their lives, on the battlefield? Find out as this Norse narrative continues! And in the backup story taking place during the younger days of our hero, Diana must dive deep into the depths of Themyscira's oceans to learn more about the mysterious manuscripts left to her. Little does she know, what lies beneath has many teeth and is dying to meet her. Beware the mighty megalodons and their appetites!
Wonder Woman Vol 5 #773 Cover A Regular Travis Moore Cover
All the treacherous roads of Asgard have led here…the fortress of the Valkyries! These deciders of death on the battlefield have grown tired of the ways of their world and have turned it upside down to remake it in their image. Can Wonder Woman broker peace between these mighty maidens and the men whose fate lies in their hands? This has the makings of a war our hero may never win! Meanwhile, in the Themyscira of old, Diana puts her quest to find the missing texts on hold to visit with Magala, the oldest Amazon on the island. Shunned by her sisters, this keeper of the Well of Souls has secrets to share, and our young hero is there to listen!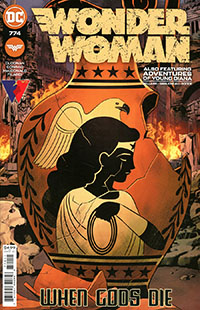 Wonder Woman Vol 5 #774 Cover A Variant Travis Moore Cover
Olympus has fallen! With the kingdom of the gods in ruins, Wonder Woman finds that only two remain, wounded and abandoned by one of their own! The rest of the Olympians are dead and now it's up to Diana to travel to the Graveyard of the Gods to recover their souls. Seems like even in the afterlife there is no rest for our hero. Will she ever be able to take her rightful place in the Greek pantheon? Or is she doomed to roam the realm for the rest of eternity? Meanwhile, in Diana's past, our young hero comes into contact with Man's World for the first time. After deciding to read one of the missing texts, she becomes enamored with the story it tells. Now her teacher Clio must bring the princess back to reality or lose her pupil for good!