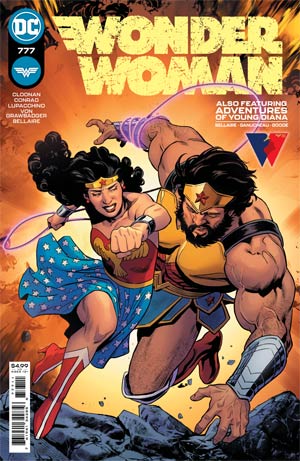 Diana of Themyscira was born into a paradise unlike anything known by man. Raised by the mighty Amazons, Diana was taught to uphold the values of virtue, honor, and compassion. But when the world found itself engulfed in war, Diana would leave paradise to fight for justice as Wonder Woman! Now a crusader for all people, Diana shares the values that she was raised on with the world. As an icon for female empowerment and one of the most popular heroes of all time, Wonder Woman stands proudly as a figure of hope for the DC Universe!
RECENT TALENT:
Tags for this comic:
» Rating » T
» Last Issue Processed » Wonder Woman Vol 5 #778 Cover A Regular Travis Moore Cover
Cover Price: $59.88
You Save 40%
Your Price : $35.93
• 12 issue subscription
FREE U.S. SHIPPING
Please allow 6-8 weeks for delivery of your first issue.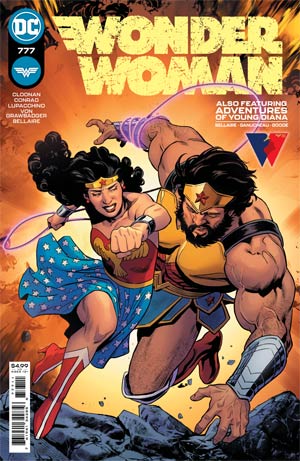 Wonder Woman Vol 5 #777 Cover A Regular Travis Moore Cover
Wonder Woman learns the hard way that fairies are never to be trusted when her promised trip home takes a sharp left turn in the Multiverse! Welcome to Earth-11, headquarters of the Justice Guild. In this alternate version of Diana's Earth, the Amazons of Themyscira imposed their law on the entire world, and the course of history was changed forever! Sounds like a dream afterlife for our hero, but Janus has somehow managed to poison this paradise. Dane of Elysium, a.k.a. Wonder Man, is on a violent rampage, and it's now up to Wonder Woman to bring him in and clear her name! Back on Earth-0, Young Diana learns the real story behind the creation of Paradise Island and the price paid for freedom. Will she ever trust the elders again? Or are the lies too much for the princess to handle?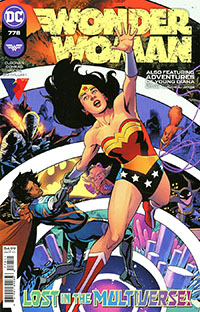 Wonder Woman Vol 5 #778 Cover A Regular Travis Moore Cover
Hot on the trail of Janus, Diana and her allies embark on a whirlwind adventure through the entire map of the Multiverse! Phantom Zone, Fifth Dimension, and Gemworld…oh my! Like the future, Janus's path through space and time is unpredictable. Will Wonder Woman ever catch her? Or could this be the end of everything as we know it?! The tale behind Paradise Island's creation continues as Hippolyta's greatest regret is revealed. Can Diana forgive her mother for the past? And what does this revelation mean for the future of the Amazons?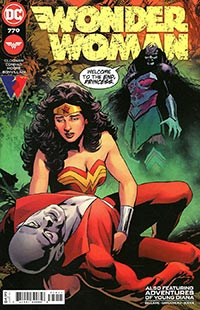 Wonder Woman Vol 5 #779 Cover A Regular Travis Moore & Paulina Ganucheau Cover
All good things must end! Janus's murderous rampage through the Multiverse leads Diana and her allies to a place in between worlds where Wonder Woman will come face to face with her darkest fear…a future without her in it! Plus, in our tale set years ago, Princess Diana's quest for truth comes to a thrilling conclusion!