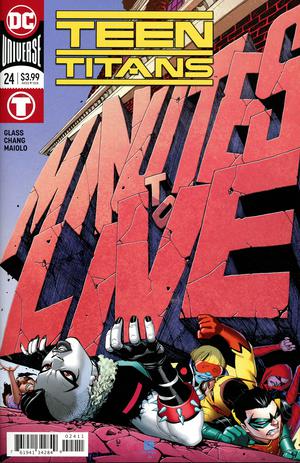 Life is hard when you're a teenager, but it's even harder when you're a teen hero! Banding together as a team seeking to strike out on their own, DC's youngest champions of justice formed the Teen Titans to escape the watchful eyes of their mentors. With their mighty powers, nothing can stand in their path if they can get on the same page! Young egos clash, romance blooms, and powers boom as the next generation of heroes makes their stand!
RECENT TALENT:
Tags for this comic:
» Rating » T
» Last Issue Processed » Teen Titans Vol 6 #23 Cover A Regular Nick Derington Enhanced Foil Cover
Cover Price: $47.88
You Save 40%
Your Price : $28.96
• 12 issue subscription
FREE U.S. SHIPPING
Please allow 6-8 weeks for delivery of your first issue.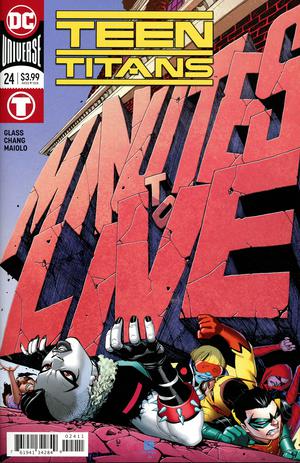 Teen Titans Vol 6 #24 Cover A Regular Bernard Chang Cover
The Teen Titans bring the house down in this issue-and it just might crush them to death! Set up by the mysterious villain known as the Other, the Teen Titans find themselves trapped beneath a crumbling building. The only thing between them and a dirt nap: Crush's bench-pressing the entire complex. But how long can she hold out? The Titans race the clock against gravity, muscle fatigue and getting squashed like a bug. Plus, Damian's secret mentor is revealed, and Robin realizes there's a traitor in their midst!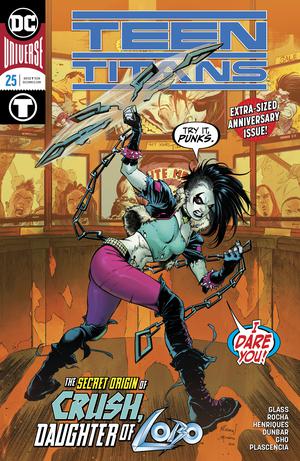 Teen Titans Vol 6 #25 Cover A Regular Robson Rocha Cover
Learn the secret origin of Crush, daughter of Lobo! When Crush drags Djinn along on a road trip to find an important item from her past, the two get into hijinks that'd make Thelma and Louise jealous. Crush is on the hunt for Obelus, the mysterious alien chain that once protected her as a child, but here's the kicker-it's in the possession of a man named Ezekiel, who killed Crush's adoptive human parents! Plus, in the backup story, learn how Roundhouse got home from space in TEEN TITANS #21!