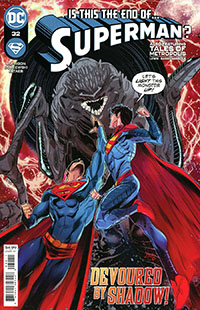 The Last Son of Krypton, Kal-El was sent to Earth as a baby in a desperate attempt to save his life. After arriving safely in Smallville, the young baby was raised by the kindly Kent family. Now, years later, Clark Kent protects his adopted world as the Man of Steel, Superman! Faster than a speeding bullet, more powerful than a locomotive, Superman soars up in the skies of Metropolis as a crusader for justice! With his loving wife Lois Lane and son Jonathan by his side, Superman is a hero for all!
RECENT TALENT:
Tags for this comic:
» Rating » T
» Last Issue Processed » Superman Vol 6 #32 Cover A Regular John Timms Cover
May go Weekly in May/June - May Increase to 3.99
Cover Price: $59.88
You Save 40%
Your Price : $35.93
• 12 issue subscription
FREE U.S. SHIPPING
Please allow 6-8 weeks for delivery of your first issue.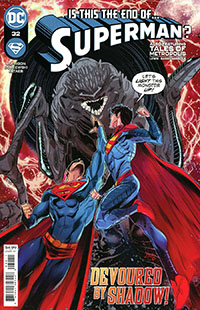 Superman Vol 6 #32 Cover A Regular John Timms Cover
The end of "The One Who Fell"! Superman and Superboy were duped by the old divide-and-conquer routine, which is especially dangerous on a faraway planet where you can't tell who your enemy is. As the Shadowbreed makes their big move, Superman discovers what happened to the friend who originally sent the distress beacon that lured him and his son across the galaxy. Let's just hope it's not an answer that came too late! Elsewhere, back home on Earth, Jimmy Olsen leads his misfit team on the hunt for the sinister Projectress.