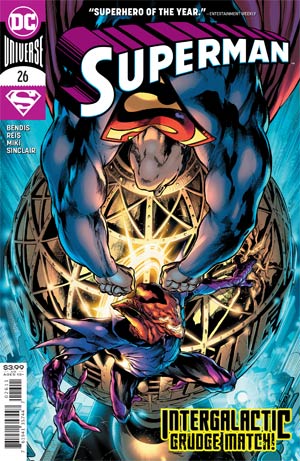 The Last Son of Krypton, Kal-El was sent to Earth as a baby in a desperate attempt to save his life. After arriving safely in Smallville, the young baby was raised by the kindly Kent family. Now, years later, Clark Kent protects his adopted world as the Man of Steel, Superman! Faster than a speeding bullet, more powerful than a locomotive, Superman soars up in the skies of Metropolis as a crusader for justice! With his loving wife Lois Lane and son Jonathan by his side, Superman is a hero for all!
RECENT TALENT:
Writer:
Brian Michael Bendis
Artist:
Ivan Reis - Danny Miki
Tags for this comic:
» Rating » T
» Last Issue Processed » Superman Vol 6 #26 Cover A Regular Ivan Reis & Joe Prado Cover
May go Weekly in May/June - May Increase to 3.99
Cover Price: $47.88
You Save 40%
Your Price : $28.96
• 12 issue subscription
FREE U.S. SHIPPING
Please allow 6-8 weeks for delivery of your first issue.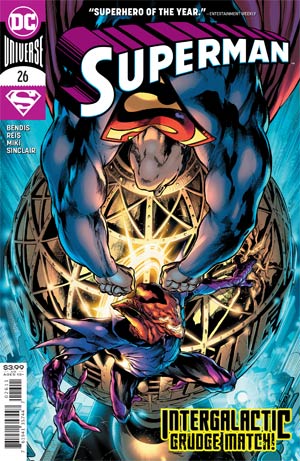 Superman Vol 6 #26 Cover A Regular Ivan Reis & Joe Prado Cover
As Superman deals with the continuing fallout from the world knowing his truth as Clark Kent, he finds himself faced with a physical threat beyond anything he has ever faced before. Synmar traveled across the universe to destroy the Man of Steel. How can Superman contain the havoc this new foe will cause so that everything he has sworn to protect doesn't collapse with him?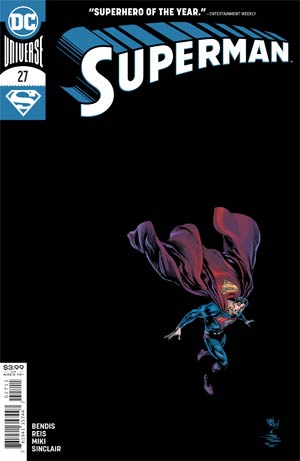 Superman Vol 6 #27 Cover A Regular Ivan Reis & Danny Miki Cover
A cosmic-level threat has come to Metropolis! Synmar has traveled across the galaxy to unleash hell on Superman—and our hero must learn that this creature is so alien that he will have to reinvent how he's going to fight! To that end, Superman goes to the source to learn where this new nemesis came from, only to find himself in a corner of the galaxy he's never seen before, way off the map—and he may find the return journey even harder than getting there in the first place!Featuring an appearance by the Justice League and a new foe unlike anything the Man of Steel has ever faced, this epic slugfest is brought to you by Brian Michael Bendis with art by Ivan Reis and Danny Miki!