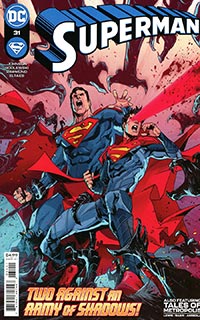 The Last Son of Krypton, Kal-El was sent to Earth as a baby in a desperate attempt to save his life. After arriving safely in Smallville, the young baby was raised by the kindly Kent family. Now, years later, Clark Kent protects his adopted world as the Man of Steel, Superman! Faster than a speeding bullet, more powerful than a locomotive, Superman soars up in the skies of Metropolis as a crusader for justice! With his loving wife Lois Lane and son Jonathan by his side, Superman is a hero for all!
RECENT TALENT:
Writer:
Phillip Kennedy Johnson - Sean Lewis
Artist:
Scott Godlewski - Sami Basri
Tags for this comic:
» Rating » T
» Last Issue Processed » Superman Vol 6 #29 Cover A Regular Phil Hester Cover
May go Weekly in May/June - May Increase to 3.99
Cover Price: $59.88
You Save 40%
Your Price : $35.93
• 12 issue subscription
FREE U.S. SHIPPING
Please allow 6-8 weeks for delivery of your first issue.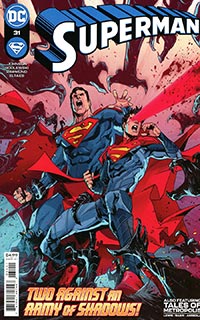 Superman Vol 6 #31 Cover A Regular John Timms Cover
"The One Who Fell" part two! Thought to have been defeated long ago by Superman and his allies, the ancient Shadowbreed have returned in a horrifying new form, and Superman's oldest ally has been assimilated into their ranks. As Jon and the besieged new Thakkramite leader search for the key that will help them defeat the creatures, Superman returns to the site of his first historic victory over the Shadowbreed in an attempt to warn the Thakkramites of the incoming threat. But Superman's old allies kept terrible secrets from him, and both he and Jon are more vulnerable against the Shadowbreed than they know. And in the backup story, Jimmy Olsen's plan to build a backup squad to help out his pal Superman looks like it's already falling apart when two of its members, Loose Cannon and Gangbuster, would rather fight than be friends.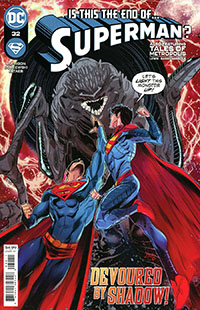 Superman Vol 6 #32 Cover A Regular John Timms Cover
The end of "The One Who Fell"! Superman and Superboy were duped by the old divide-and-conquer routine, which is especially dangerous on a faraway planet where you can't tell who your enemy is. As the Shadowbreed makes their big move, Superman discovers what happened to the friend who originally sent the distress beacon that lured him and his son across the galaxy. Let's just hope it's not an answer that came too late! Elsewhere, back home on Earth, Jimmy Olsen leads his misfit team on the hunt for the sinister Projectress.