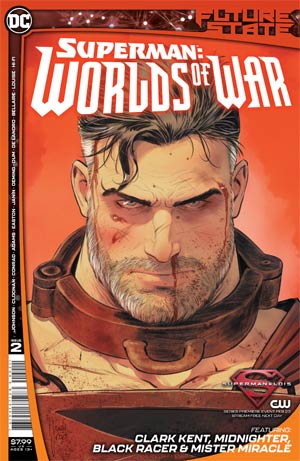 The Last Son of Krypton, Kal-El was sent to Earth as a baby in a desperate attempt to save his life. After arriving safely in Smallville, the young baby was raised by the kindly Kent family. Now, years later, Clark Kent protects his adopted world as the Man of Steel, Superman! Faster than a speeding bullet, more powerful than a locomotive, Superman soars up in the skies of Metropolis as a crusader for justice! With his loving wife Lois Lane and son Jonathan by his side, Superman is a hero for all!
RECENT TALENT:
Tags for this comic:
» Rating » T
» Last Issue Processed » Superman Vol 6 #27 Cover A Regular Ivan Reis & Danny Miki Cover
May go Weekly in May/June - May Increase to 3.99
Cover Price: $47.88
You Save 40%
Your Price : $28.96
• 12 issue subscription
FREE U.S. SHIPPING
Please allow 6-8 weeks for delivery of your first issue.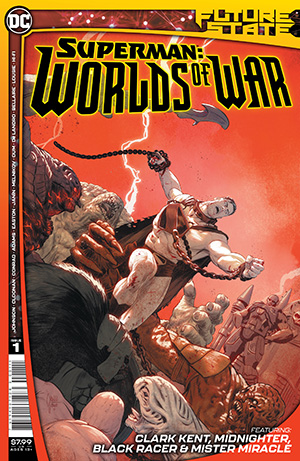 Future State Superman Worlds Of War #1 Cover A Regular Mikel Janin Cover
This monumental Future State title features four big stories! First, Clark Kent is gone, leaving a Superman-shaped hole behind. People gather in Smallville to celebrate their hero, little realizing that he is across the galaxy helping others. Superman has gone to Warworld, where he fights as a gladiator in the deadly pits of Mongul. But this is Superman we're talking about—and his idea of a victory does not line up with the expectations of Mongul's hordes! Meanwhile, on the other side of Warworld, other agents are at work, struggling for a better life. Shilo Norman, the man known as Mister Miracle, has ridden a Boom Tube across the cosmos from Metropolis to finds himself at odds with an entire planet! At the same time, Midnighter, the greatest fighter from Earth, is punching his way through a whole mess of trouble. He's on the hunt for a new energy source deadlier than Kryptonite. His goal: to shut it down before it gets unleashed on an unsuspecting universe. On top of that, the Black Racer, a girl raised in the slums of Warworld to be one of its top competitors, turns betrayal into a crusade to fight for the freedom of others like her.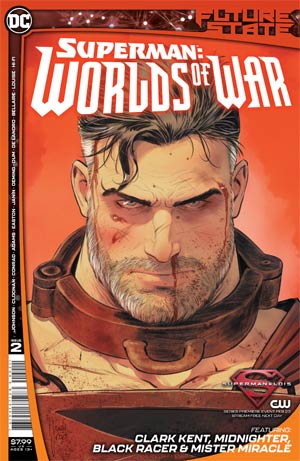 Future State Superman Worlds Of War #2 Cover A Regular Mikel Janin Cover
Meet the rising champion of the gladiatorial pits of Warworld: Superman! The Man of Steel is still down in the pits duking it out with Mongul's hordes and working his way up to the big boss himself. But since it's Superman, there has to be more to this than a simple determination to win the title belt, right? Yes, because he's also got Midnighter out there on a mission to chase down a dangerous new power source...but the man standing in his way is all too familiar. Plus, the Black Racer smashes her way to freedom, and Mister Miracle, now trapped on Warworld himself, has to find his way back to the bottle city of Metropolis—and his only mode of transportation is a busted Boom Tube!