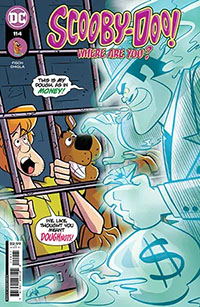 The world is filled with spooky ghosts and monsters, scaring people and making life downright terrible! Who's going to save the day and solve the case to get to the root of the problem? Mystery Inc., that's who! Whether there's a monster in the mirror or a ghoul in a school, Scooby, Shaggy, Fred, Velma, and Daphne will save the day! It just might take a Scooby Snack to find the courage to unmask these crazy cooks! Scooby-Doo and the rest of Mystery Inc. are on the case!
RECENT TALENT:
Tags for this comic:
» Rating » E
» Last Issue Processed » Scooby-Doo Where Are You #112
Cover Price: $35.88
You Save 44%
Your Price : $19.99
• 12 issue subscription
FREE U.S. SHIPPING
Please allow 6-8 weeks for delivery of your first issue.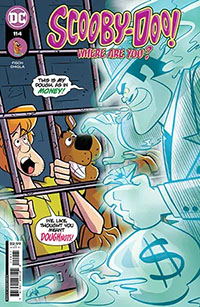 Scooby-Doo Where Are You #114
The Coolsville police station is being haunted by a monstrous mobster and his ghostly goons! Is it a cover for a jailbreak? A distraction to keep the police too busy to stop a daring crime elsewhere in the city? Or could the monsters be real? It's up to Scooby and the gang to unravel the clues and crack the mystery—that is, if they can ever get out of the cell they've accidentally locked themselves in!