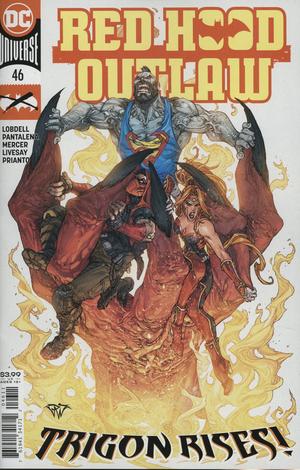 As a teen, Jason Todd fought alongside Batman as the second Robin. Years later, he has donned the mantle of the Red Hood as he embarks on a journey Batman could never pursue. Undercover as a criminal, Red Hood is dead-set on facing the darkest foes DC has to offer, but he won't have to do it alone! With the fallen Amazon named Artemis and the Superman clone named Bizarro, this dark trinity will soon discover than the line between hero and villain is harder to discern than they might think.
RECENT TALENT:
Tags for this comic:
» Rating » T+
» Last Issue Processed » Red Hood Outlaw #41 Cover A Regular Dan Mora Cover
Cover Price: $47.88
You Save 40%
Your Price : $28.96
• 12 issue subscription
FREE U.S. SHIPPING
Please allow 6-8 weeks for delivery of your first issue.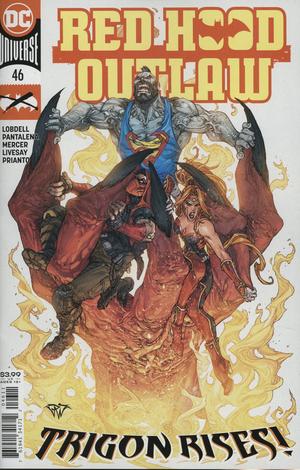 Red Hood Outlaw #46 Cover A Regular Paolo Pantalena Cover
Red Hood, Artemis, and Bizarro have their hands full-and until now they thought the biggest problem they had to face was the uprising of the Untitled during the political protests in Qurac! They're about to learn this ancient race might very well be the lesser of two evils when the Outlaws square off against one of the oldest and most dangerous threats in all the DC Universe! (We're not kidding-we know better than to say his name out loud! Yeah, he's that scary!) Meanwhile, Artemis has united with Mistress-but at what price? Bizarro meets... his mother? And Jason is forced to choose between Essence and Isabel if he's going to defeat the Untitled once and for all!
Red Hood Outlaw #47 Cover A Regular Paolo Pantalena Cover
The Chamber of All has been excavated by the Untitled in Qurac, which means it's up to Red Hood, Artemis, Bizarro and Essence to prevent an unspeakable horror from wiping out all of humanity once and for all. Sounds like a tall order for the Outlaws? Don't worry, they get help from the most unexpected (and misunderstood) super-team of all time: Red Hood and the Outlaws! All this, plus Ma Gunn learns the tragic reason Monsieur Mallah and the Brain want to teach the students of Generation Outlaw.