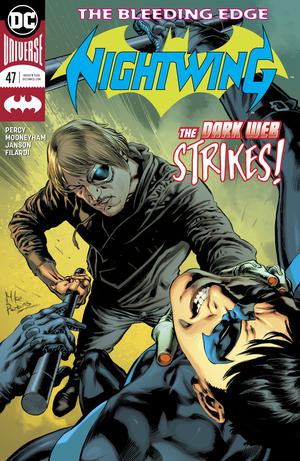 After his parents were taken from him in a moment of tragedy, young aerialist Dick Grayson was raised at the knee of Bruce Wayne. But when Bruce revealed himself as Batman, Dick quickly found himself fighting beside him as Robin, the Boy Wonder! As Dick grew, he relinquished the mantle of Robin and became Nightwing! Be it at the side of the Batman, with his teammates in the Titans, or on his own, Nightwing fights crimes wherever it may appear, with his stunning acrobatic abilities and endearing charm!
RECENT TALENT:
Tags for this comic:
» Rating » T
» Last Issue Processed » Nightwing Vol 4 #47 Cover A Regular Mike Perkins Cover
Cover Price: $35.88
You Save 30%
Your Price : $24.99
• 12 issue subscription
FREE U.S. SHIPPING
Please allow 6-8 weeks for delivery of your first issue.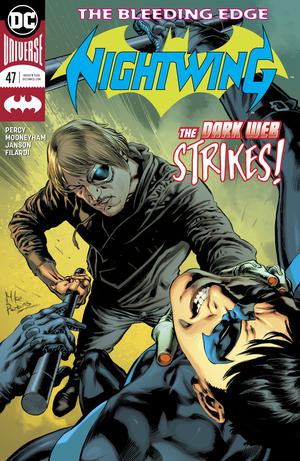 Nightwing Vol 4 #47 Cover A Regular Mike Perkins Cover
"Dick Grayson may want to consider a new career in cyber-security, because the major tech upgrades coming to Blüdhaven mean deadly danger for everyone in the city. Nightwing battles the mysterious tech mogul Willem Cloke, who it turns out is just a front man for the real threat-the organization known only as the Dark Web! Time to change those passwords, Blüdhaven!"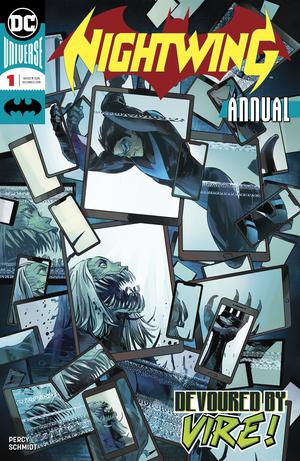 Nightwing Vol 4 Annual #1
"The smart city overhaul of Blüdhaven was just the beginning-a single battle in a larger cyberwar that Nightwing is only starting to understand. But now the story of the Dark Web organization begins to expand as Grayson travels to Gotham City and partners up with Vicki Vale. We live in an era of fake news, alternative facts, disinformation. The gatekeepers of truth can't be trusted anymore, and sometimes elections, businesses and even lives are at stake. Nightwing faces off against the first of three lieutenants in the army of the Dark Web: Vire, the psychic embodiment of malware who can unearth your darkest secrets. "