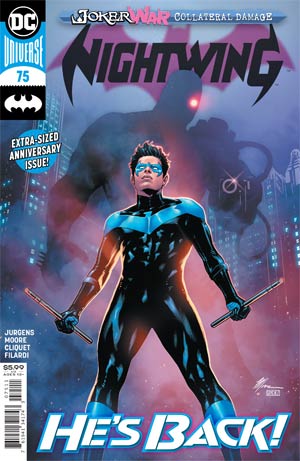 After his parents were taken from him in a moment of tragedy, young aerialist Dick Grayson was raised at the knee of Bruce Wayne. But when Bruce revealed himself as Batman, Dick quickly found himself fighting beside him as Robin, the Boy Wonder! As Dick grew, he relinquished the mantle of Robin and became Nightwing! Be it at the side of the Batman, with his teammates in the Titans, or on his own, Nightwing fights crimes wherever it may appear, with his stunning acrobatic abilities and endearing charm!
RECENT TALENT:
Artist:
Travis Moore - Ronan Cliquet
Tags for this comic:
» Rating » T
» Last Issue Processed » Nightwing Vol 4 #75 Cover A Regular Travis Moore Cover (Joker War Fallout Tie-In)
Cover Price: $47.88
You Save 40%
Your Price : $28.96
• 12 issue subscription
FREE U.S. SHIPPING
Please allow 6-8 weeks for delivery of your first issue.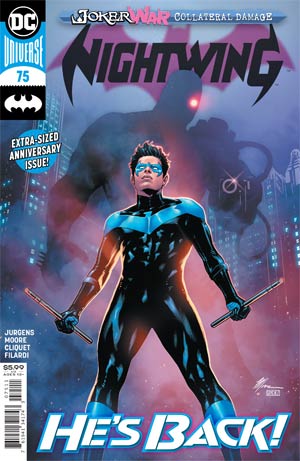 Nightwing Vol 4 #75 Cover A Regular Travis Moore Cover (Joker War Fallout Tie-In)
In the wake of &QUOTThe Joker War,&QUOT Nightwing is back—but is he back for good? And does he remember Bea? With the help of Batman, Batgirl, his Teen Titans friends, and even Alfred, Nightwing must decide for himself which path to take. Then, when KGBeast discovers Nightwing is still alive, his street credibility is on the line if he doesn't go to finish the job he started when he tried to kill Nightwing…and missed! Nightwing better watch his back is he wants to be back for good!
Nightwing Vol 4 #76 Cover A Regular Travis Moore Cover
One bullet robbed Nightwing of his memories and identity. One bullet erased Dick Grayson and replaced him with Ric Grayson. Now, with Dick's true identity returned, KGBeast is back with one last bullet for him. Using Bea as bait, KGBeast has made it abundantly clear that this one last bullet isn't intended for Nightwing's head—this one is aiming to puncture his broken heart!