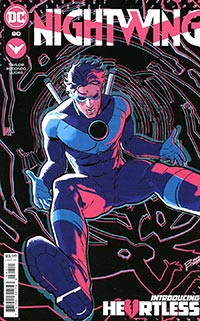 After his parents were taken from him in a moment of tragedy, young aerialist Dick Grayson was raised at the knee of Bruce Wayne. But when Bruce revealed himself as Batman, Dick quickly found himself fighting beside him as Robin, the Boy Wonder! As Dick grew, he relinquished the mantle of Robin and became Nightwing! Be it at the side of the Batman, with his teammates in the Titans, or on his own, Nightwing fights crimes wherever it may appear, with his stunning acrobatic abilities and endearing charm!
RECENT TALENT:
Tags for this comic:
» Rating » T
» Last Issue Processed » Nightwing Vol 4 #80 Cover A Regular Bruno Redondo Cover
Cover Price: $47.88
You Save 40%
Your Price : $28.96
• 12 issue subscription
FREE U.S. SHIPPING
Please allow 6-8 weeks for delivery of your first issue.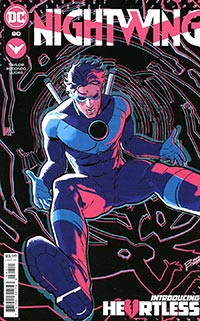 Nightwing Vol 4 #80 Cover A Regular Bruno Redondo Cover
Dick Grayson's always had a big heart. From protecting those persecuted by bullies in his youth, to combating evil alongside Batman as Robin, to pledging his newly inherited wealth to enriching Blüdhaven as Nightwing—his kindness and generosity have always guided his life. But now a new villain stalks the back alleys of Blüdhaven, removing the hearts of the city's most vulnerable. Who is this terrifying new menace named Heartless, and will he be able to resist plucking out the biggest heart in all of Blüdhaven? Read this (literally) heart-wrenching issue to find out!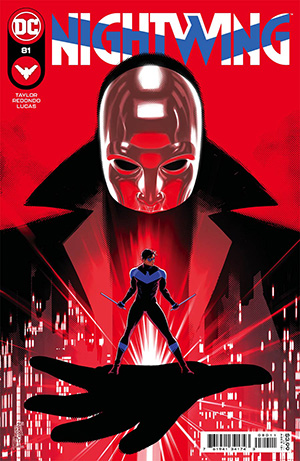 Nightwing Vol 4 #81 Cover A Regular Bruno Redondo Cover
Dick Grayson trades out his escrima sticks for a magnifying glass and a sleuth hat to investigate Blüdhaven's new mayor, Melinda Zucco, and find out how the daughter of the man who murdered Dick's parents came to power in Nightwing's city. But his investigative adventure is cut short when he comes face to face with the most horrendous villain in the history of Blüdhaven—HEARTLESS.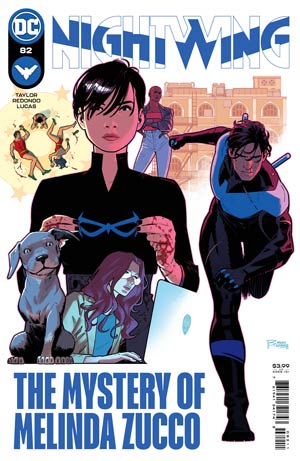 Nightwing Vol 4 #82 Cover A Regular Bruno Redondo Cover
Melinda Zucco's connection to the man who killed Dick Grayson's parents wasn't a surprise to the Blüdhaven hero, but what the former Robin discovers about Melinda's ties to the Flying Graysons leaves the usually upbeat detective speechless.