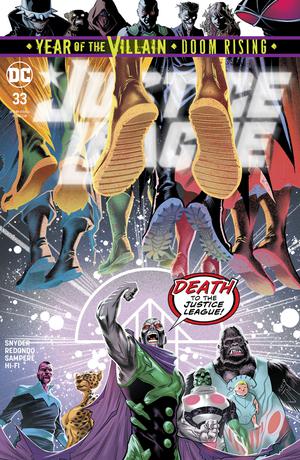 When the Earth finds itself in times of crisis, the greatest heroes of the DC Universe unite as the Justice League! Brought together through mutual respect and a desire to stop evil wherever it may appear, the Justice League patrols the Earth from their Watchtower orbiting the planet. Nothing escapes their watchful eye and no foe is too great for these champions of virtue! Featuring Batman, Superman, Wonder Woman, the Flash, Cyborg, and more, the Justice League leads the way as DC's premier superhero team!
RECENT TALENT:
Writer:
Scott Snyder - James Tynion
Tags for this comic:
» Rating » T
» Last Issue Processed » Justice League Vol 4 #29 Cover A Regular Francis Manapul Cover (Year Of The Villain Dark Gifts Tie-In)
Cover Price: $47.88
You Save 40%
Your Price : $28.96
• 12 issue subscription
FREE U.S. SHIPPING
Please allow 6-8 weeks for delivery of your first issue.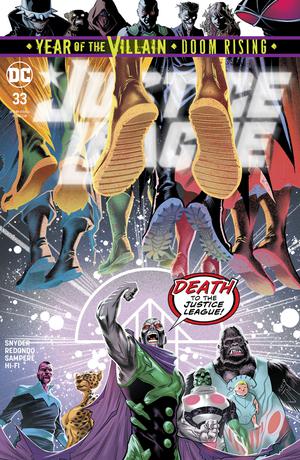 Justice League Vol 4 #33 Cover A Regular Francis Manapul Cover
&quotThe Justice Doom War&quot part four! Apex Lex Luthor is in ascendance, and he's taking out the remaining members of the Justice League in the present just as his Legion of Doom is beating down the time-traveling heroes in both the past and the future. Batman, Superman and the rest of our heroes may have just figured out how Kamandi's timeline works when terrible Hypertime quakes rattle their existence, threatening to strand them far from their own time. Meanwhile, the Flash, Green Lantern and the Justice Society take another leap through time, heading for...ancient Atlantis?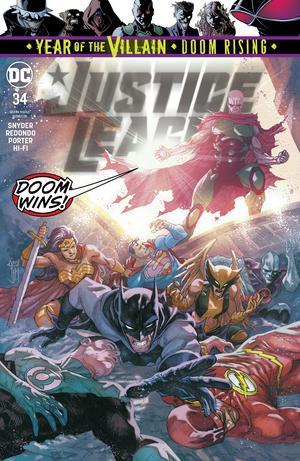 Justice League Vol 4 #34 Cover A Regular Francis Manapul Cover (Year Of The Villain Doom Rising Tie-In)
&quotThe Justice Doom War&quot part five! All Hypertime is breaking! If it blows, all of reality will follow after-which would be just fine for Lex Luthor, who is ready to prove to the evil goddess Perpetua that he's the bad man for her. The Justice League is attempting to do what they can, chasing the Legion of Doom across the time-sphere. If the Totality is put back together, the whole Multiverse will tip toward Doom…and have consequences that reverberate throughout the DC Universe-assuming it's not destroyed in the process.
Justice League Vol 4 #35 Cover A Regular Rafael Albuquerque Acetate Cover (Year Of The Villain Hostile Takeover Tie-In)
This issue: Lex Luthor wins! Everything Lex has been working for over the past year and a half comes to fruition as he finally possesses the fully powered Totality and plans to bend Hypertime to his will. The Legion of Doom's leader will defeat the Justice League once and for all and make his final pitch to serve at Perpetua's side-and the Multiverse will never be the same!