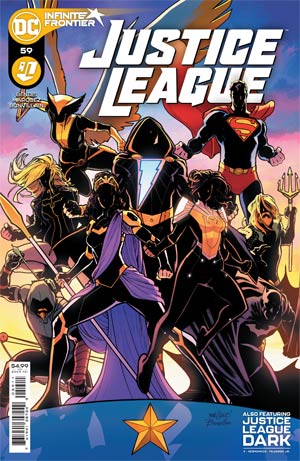 When the Earth finds itself in times of crisis, the greatest heroes of the DC Universe unite as the Justice League! Brought together through mutual respect and a desire to stop evil wherever it may appear, the Justice League patrols the Earth from their Watchtower orbiting the planet. Nothing escapes their watchful eye and no foe is too great for these champions of virtue! Featuring Batman, Superman, Wonder Woman, the Flash, Cyborg, and more, the Justice League leads the way as DC's premier superhero team!
RECENT TALENT:
Writer:
Brian Michael Bendis - Ram V
Artist:
David Marquez - Xermanico
Tags for this comic:
» Rating » T
» Last Issue Processed » Justice League Vol 4 #59 Cover A Regular David Marquez Cover
Cover Price: $47.88
You Save 40%
Your Price : $28.96
• 12 issue subscription
FREE U.S. SHIPPING
Please allow 6-8 weeks for delivery of your first issue.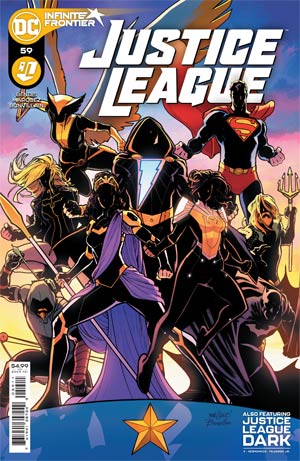 Justice League Vol 4 #59 Cover A Regular David Marquez Cover
Writer Brian Michael Bendis reunites with artist David Marquez (Miles Morales, Iron Man, Batman/Superman) for a new, star-studded Justice League featuring Superman, Batman, the Flash, Hawkgirl, Aquaman, Hippolyta, new DC powerhouse Naomi, and...is that Black Adam?! Superman is leading the charge to reinvent the Justice League—and at the same time, a new, cosmic-powered threat arrives from Naomi's homeworld to rule the Earth! And in the backup story, dark days lie ahead for the new Justice League Dark. Zatanna and John Constantine take a road trip, only to discover horror around the bend as a friend—and sometime foe—is reborn in fire! A legend is destroyed, and another takes a terrible turn, as Merlin reveals the beginning of a new, blood-drenched plot for all humankind. So begins writer Ram V's new journey into the abyss with the Justice League Dark and artist Xermanico!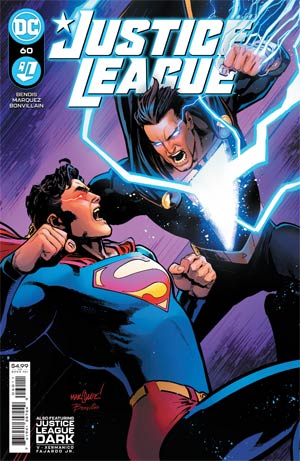 Justice League Vol 4 #60 Cover A Regular David Marquez Cover
Superman, Batman, Green Arrow, Black Canary, Aquaman, and Hawkgirl join forces with Black Adam to fight an all-new world conqueror! But how do they stop the unstoppable power known as Brutus? Enter new mega-power sensation Naomi, who comes face to face with the League and brings along Queen Hippolyta of the Amazons for a blockbuster battle for the ages—with a last-page cliffhanger that will leave everyone guessing what's next! And in the backup tale, the new Justice League meets the new Justice League Dark, and the demon Etrigan calls the team to action—but Batman has other plans. This team needs a leader, but what twisted secret prevents Zatanna from stepping forward? Plus, Ragman makes a startling discovery—one that may cost his life!