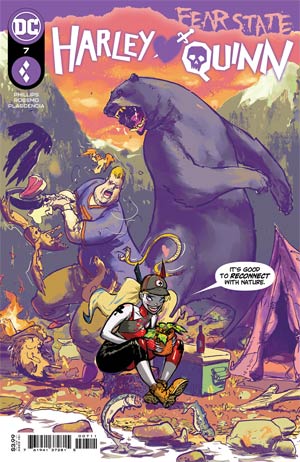 Dr. Harleen Quinzel was the foremost psychologist at Arkham Asylum, deadset on fixing the most fractured minds known to man. But a fixation on the Joker quickly proved toxic when Harleen helped him escape! Joining his side as Harley Quinn, she soon found that their love was unhealthy and made her own exit. Determined to be her own woman, Harley Quinn left Gotham City to create a life on her own! Whether as a criminal, a member of Task Force X, or on her own, Harley Quinn is a wild card unlike any other!
RECENT TALENT:
Writer:
Stephanie Phillips
Tags for this comic:
» Rating » T+
» Last Issue Processed » Harley Quinn Vol 4 #7 Cover A Regular Riley Rossmo Cover (Fear State Tie-In)
Cover Price: $47.88
You Save 40%
Your Price : $28.96
• 12 issue subscription
FREE U.S. SHIPPING
Please allow 6-8 weeks for delivery of your first issue.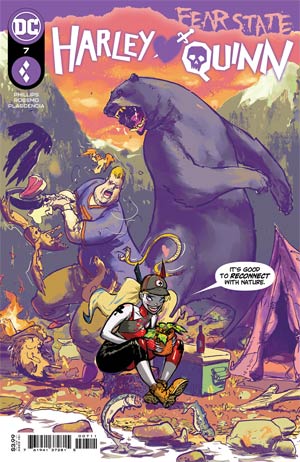 Harley Quinn Vol 4 #7 Cover A Regular Riley Rossmo Cover (Fear State Tie-In)
Heya, folks, Harley Quinn here! In case you all haven't noticed…things have been a little wild lately. Hugo Strange, out-of-control orderlies, kidnapped clowns, and a new villain named Keepsake…it's a lot for any one former villain turned antihero turned real hero with impeccable fashion sense to handle. I'm talkin' about ME if that wasn't clear. With all the Fear State happening in Gotham, I thought it would be a good time to go on a little camping trip. But, turns out, Gotham is gonna be Gotham…Keepsake's forming a new army, Hugo's playin' dress-up, and the city is literally tearing itself apart. This looks like a job for Harley Quinn, Kevin, and...the Gardener? Oh yeah, Bella's in this one, too! I just love her little plant dogs!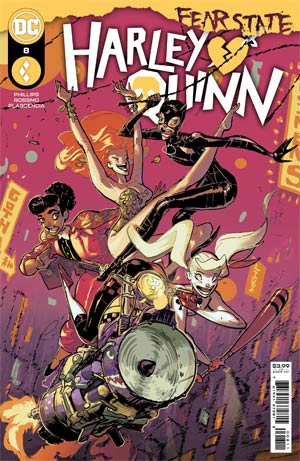 Harley Quinn Vol 4 #8 Cover A Regular Riley Rossmo Cover (Fear State Tie-In)
Sorry, Harley's not here right now, but this is her trusted sidekick Kevin, and I'm happy to be keeping watch over the streets of Gotham. The city's gone a little crazy with the Magistrate's forces cracking down. I just hope that Harley's mission to Alley Town with Catwoman and the Gardener is successful in finding the missing piece of Poison Ivy that could be the very key to saving Gotham. In the meantime, I'll help put fires out around Gotham…literally…and I might get some unexpected help in the process! Fear State part two continues here!
Harley Quinn Vol 4 #9 Cover A Regular Riley Rossmo Cover (Fear State Tie-In)
Harley Quinn here, reporting live from Fear State! And let me just say…I've jumped outta airplanes, faced down the baddest criminals in Gotham, thrown punches at Batman, and filed my own taxes without instructions from the IRS, but reuniting with Poison Ivy to try to save all of Gotham…? Let's just say I've got a little anxiety. I'm only one well-dressed and overly verbal former psychologist turned heroic clown, after all. Which is why I've teamed with the Gotham City Sirens to take down Scarecrow and…wait…why is Keepsake here? This couldn't just be an easy, straightforward mission, could it? I blame the writer…