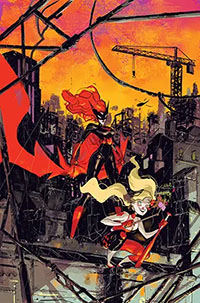 Dr. Harleen Quinzel was the foremost psychologist at Arkham Asylum, deadset on fixing the most fractured minds known to man. But a fixation on the Joker quickly proved toxic when Harleen helped him escape! Joining his side as Harley Quinn, she soon found that their love was unhealthy and made her own exit. Determined to be her own woman, Harley Quinn left Gotham City to create a life on her own! Whether as a criminal, a member of Task Force X, or on her own, Harley Quinn is a wild card unlike any other!
RECENT TALENT:
Writer:
Stephanie Phillips
Tags for this comic:
» Rating » T+
» Last Issue Processed » Harley Quinn Vol 4 #13 Cover A Regular Riley Rossmo Cover
Cover Price: $47.88
You Save 40%
Your Price : $28.96
• 12 issue subscription
FREE U.S. SHIPPING
Please allow 6-8 weeks for delivery of your first issue.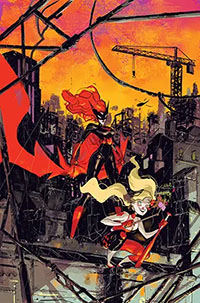 Harley Quinn Vol 4 #15 Cover A Regular Riley Rossmo Cover
They really tried to throw me in prison for somethin' I didn't do! I mean, this time I didn't do anything. In the past, I did things. Lots of things...But that's not the point. The point is, I'm innocent! It's a frame job, I tell ya! The only way out of this is to catch the real culprit, and for that I need Batwoman. Seriously, who doesn't need Batwoman? Skintight suit, mucho muscles, and that hair! Anyways, Batwoman's in this one, and we might finally reveal Verdict's true identity! Will the mystery be solved in time to save my good name? DUN DUN DUN!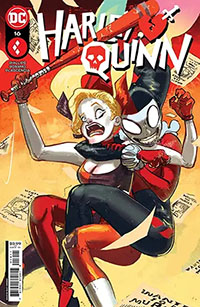 Harley Quinn Vol 4 #16 Cover A Regular Riley Rossmo Cover
You know how the whole villain origin story is usually about the &quotone bad day&quot that changed everything? I think it's Tuesday most of the time. But what if it's, like, a lot of bad days, and some of them were even caused by me, Harley Quinn? Well, that would be a recipe for one pretty bad villain, right? The secret origin story of a brutal new villain, Verdict, is revealed here! Though I guess it won't be very secret once we reveal it, huh?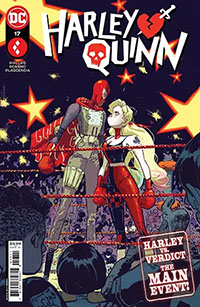 Harley Quinn Vol 4 #17 Cover A Regular Riley Rossmo Cover
It's the moment we've been building toward for months! The rumble in the jungle! But actually in Gotham, because we're not in the jungle. It's the throwdown showdown between me, your hyper-verbal, semi-reformed former villain, and Verdict, the violent vigilante vowing to have vengeance on…well, everybody! Can I clear my name after being locked up for a crime I didn't commit?