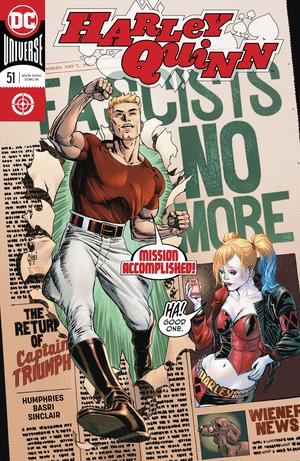 Dr. Harleen Quinzel was the foremost psychologist at Arkham Asylum, deadset on fixing the most fractured minds known to man. But a fixation on the Joker quickly proved toxic when Harleen helped him escape! Joining his side as Harley Quinn, she soon found that their love was unhealthy and made her own exit. Determined to be her own woman, Harley Quinn left Gotham City to create a life on her own! Whether as a criminal, a member of Task Force X, or on her own, Harley Quinn is a wild card unlike any other!
RECENT TALENT:
Tags for this comic:
» Rating » T+
» Last Issue Processed » Harley Quinn Vol 3 #52 Cover A Regular Julian Totino Tedesco Enhanced Foil Cover
Cover Price: $35.88
You Save 30%
Your Price : $24.99
• 12 issue subscription
FREE U.S. SHIPPING
Please allow 6-8 weeks for delivery of your first issue.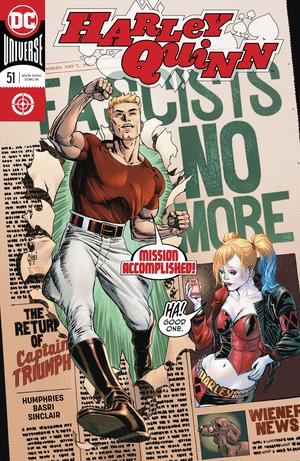 Harley Quinn Vol 3 #51 Cover A Regular Guillem March Cover
Harley broke most of DCU continuity last issue, and in this ish, she's dealing with the fallout, namely the time-tossed hero of World War II called Captain Triumph! The golden boy of the Golden Age finds his black-and-white approach failing miserably in the gray areas of the modern world (although unfortunately, there are still plenty of fascists for him to punch). It's up to Harley to return Captain Triumph to his own time, but she'll have to put the kibosh on his do-gooding first-right after she figures out what 'kibosh' means!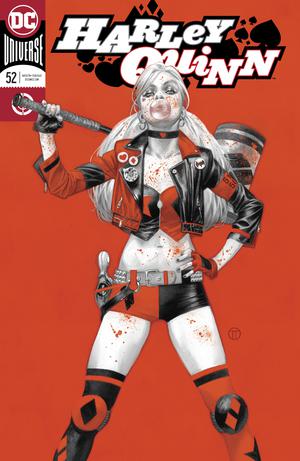 Harley Quinn Vol 3 #52 Cover A Regular Julian Totino Tedesco Enhanced Foil Cover
Trapped in a future he doesn't understand, Captain Triumph can't battle his way out of our modern world, as all his efforts lead to disaster. That causes him to butt heads and trade punches with his would-be protector, Harley Quinn. Can Harley talk her way out of this clash? And more importantly, where's she getting a time machine so she can send Captain Triumph home?