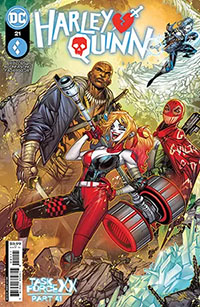 Dr. Harleen Quinzel was the foremost psychologist at Arkham Asylum, deadset on fixing the most fractured minds known to man. But a fixation on the Joker quickly proved toxic when Harleen helped him escape! Joining his side as Harley Quinn, she soon found that their love was unhealthy and made her own exit. Determined to be her own woman, Harley Quinn left Gotham City to create a life on her own! Whether as a criminal, a member of Task Force X, or on her own, Harley Quinn is a wild card unlike any other!
RECENT TALENT:
Writer:
Stephanie Phillips
Artist:
Simone Buonfantino
Tags for this comic:
» Rating » T+
» Last Issue Processed » Harley Quinn Vol 4 #16 Cover A Regular Riley Rossmo Cover
Cover Price: $47.88
You Save 40%
Your Price : $28.96
• 12 issue subscription
FREE U.S. SHIPPING
Please allow 6-8 weeks for delivery of your first issue.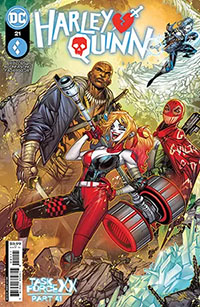 Harley Quinn Vol 4 #21 Cover A Regular Jonboy Meyers Cover
Nuke it from orbit…is what we shoulda done to this whole entire moon. Who needs a moon anyway? I blame Luke Fox for sending a team of villains into space to fight a horrific alien monster in the first place. Obviously, that was just never going to work out well. Has Luke ever seen a sci-fi movie? And now you're expectin' me to save Earth with just my super-awesome-mallet-ofalien-skull-crashing-madness™? Okay, you asked for it…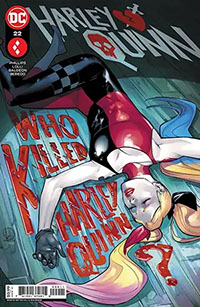 Harley Quinn Vol 4 #22 Cover A Regular Matteo Lolli Cover
THE QUINN IS DEAD! LONG LIVE THE QUINN! I get killed in this one...for real! Dead. Deceased. Former. Late. Pushing up daisies. Somebody needs to solve my murder, and since I don't see Sherlock Holmes or Hercule Poirot around, I guess that'll have to be me. Though, since I'm dead...there are certain hurdles to overcome. The Harley-est, wildest arc starts right here...get ready for murder, Multiversal mischief, and more guest appearances, with Stephanie Phillips and new Harley Quinn artist Matteo Lolli!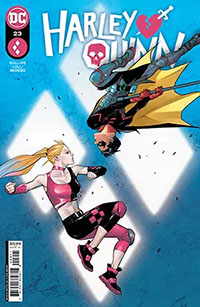 Harley Quinn Vol 4 #23 Cover A Regular Matteo Lolli Cover
Y'know, bein' dead is just like ridin' a bike. There's a big white light, and then Prince shows up and offers you a chance to host a house party in the clouds with Marilyn Monroe and Abraham Lincoln. Then suddenly you're brought back to life in a pit of goopy green snot, and you have to find the person who was rude enough to shoot and kill you. To make things even better...turns out that comin' back to life could have some serious unintended consequences!