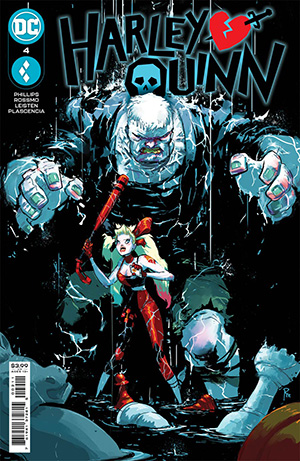 Dr. Harleen Quinzel was the foremost psychologist at Arkham Asylum, deadset on fixing the most fractured minds known to man. But a fixation on the Joker quickly proved toxic when Harleen helped him escape! Joining his side as Harley Quinn, she soon found that their love was unhealthy and made her own exit. Determined to be her own woman, Harley Quinn left Gotham City to create a life on her own! Whether as a criminal, a member of Task Force X, or on her own, Harley Quinn is a wild card unlike any other!
RECENT TALENT:
Writer:
Stephanie Phillips
Artist:
Riley Rossmo - Jay Leisten
Tags for this comic:
» Rating » T+
» Last Issue Processed » Harley Quinn Vol 4 #1 Cover A Regular Riley Rossmo Cover
Cover Price: $47.88
You Save 40%
Your Price : $28.96
• 12 issue subscription
FREE U.S. SHIPPING
Please allow 6-8 weeks for delivery of your first issue.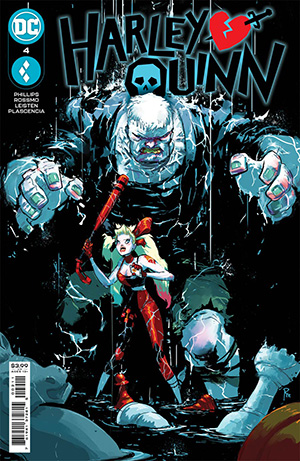 Harley Quinn Vol 4 #4 Cover A Regular Riley Rossmo Cover
I may be in the sewer, but you better get your mind outta the gutter! That rhymin' zombie known as Solomon Grundy ain't happy that I'm in his domain (but to be fair...it's also Killer Croc's domain too, there's a lotta sewer dwellers in Gotham). Grundy's either going to welcome me with open arms or crush me! And I can't let that happen, 'cause Kevin's at the mercy of Hugo Strange. Hugo's going to do everything in his power to break Kevin and turn him against me, I hope in our brief time together, Kevin's learned a little perseverance! Don't miss this one!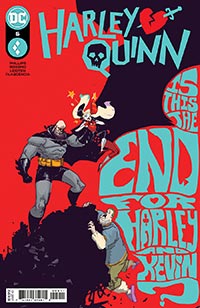 Harley Quinn Vol 4 #5 Cover A Regular Riley Rossmo Cover
Did I miss something, or is there another new creep in a funny costume tryin' to take over Gotham? Villains in this city are like that multiheaded hydra monster: blow a few up in Arkham Asylum, and 50 more pop up in ridiculous costumes thinkin' they're worthy of one of those fancy character variant covers. And here I thought bustin' outta Hugo Strange's new headquarters and savin' the clowns was gonna be my biggest problem today.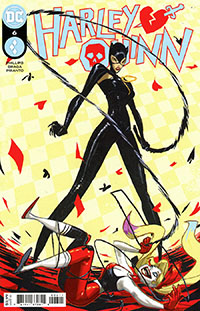 Harley Quinn Vol 4 #6 Cover A Regular Riley Rossmo Cover
Yer pal Harley Quinn back again! Now, there might be a lot of new faces in Gotham, but it's always nice to see an old friend. Okay, so Catwoman explicitly asked me not to call her my friend, but I know she secretly loves me under that tough, broody, leather-clad exterior. You're not gonna wanna miss this one as we tangle with those boring Magistrate goons in Alleytown like a real dynamic duo! I smash a lot of stuff with my bat, and Selina does a bunch of flips and awesome things with her whip. She's so cool.