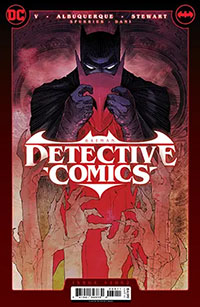 Published since the 1930's, Detective Comics is one of the longest running titles in all of comics. As the birthplace of Batman, the series has long focused on the Dark Knight solving the darkest mysteries of the DC Universe. But as time has passed, Batman has grown to trust other young heroes in his war on crime. With the likes of Batwoman, Red Robin, Spoiler, and more, Detective Comics is the everlasting home to the greatest crime stories from the world of DC Comics!
RECENT TALENT:
Writer:
Ram V. - Simon Spurrier
Artist:
Rafael Albuquerque - Dani
Tags for this comic:
» Rating » T
» Last Issue Processed » Detective Comics Vol 2 #1053 Cover A Regular Irvin Rodriguez Cover
May go Weekly in May/June - May Increase to 3.99
Cover Price: $59.88
You Save 40%
Your Price : $35.93
• 12 issue subscription
FREE U.S. SHIPPING
Please allow 6-8 weeks for delivery of your first issue.
Detective Comics Vol 2 #1061 Cover A Regular Ivan Reis & Danny Miki Cover
Mommy's home! With Talia al Ghul back in town, anything can happen...and the mother of Robin is here to lay down the law. Meanwhile, the Riddler's scheme to turn Batman's sacred city into a twisted riddle of life and death has at last been revealed...and Edward's going to use whatever and whoever he can to turn Batman's life upside down. Then, in the finale of &quotGotham Girl, Interrupted,&quot Claire Clover unravels the mystery behind the Gotham Girl website...so why doesn't she believe what she finds in the process? It's betrayal, healing, and punches galore!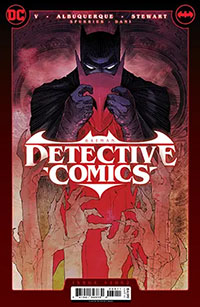 Detective Comics Vol 2 #1062 Cover A Regular Evan Cagle Cover
GOTHAM NOCTURNE PART 1 OF 4: "OVERTURE." It's a new era for the detective of the night as we introduce award-winning new series writer Ram V (Catwoman, The Many Deaths of Laila Starr), and artist extraordinaire Rafael Albuquerque (American Vampire, Superman/Batman)! Together, they'll be turning Gotham into a tragic yet beautiful gothic opera for our eyes and ears to feast on. Something is terribly wrong with Batman. No matter the tests Bruce takes, nor the numbers he counts, the greatest detective in the world can't pin down the source of this creeping dread—of his own inner demons and a looming mortality. Meanwhile, real demons roam the shadows as an ancient melody haunts the Gotham night. Here now the curtains rise and as the eerie tune streams in…who is human, who is demon, who is to tell? As Batman investigates the songs and the demons of Gotham, he is forced to confront the oldest question…whether there has been a demon within him all along…and if so, what does it want?…and why hasn't it taken over yet?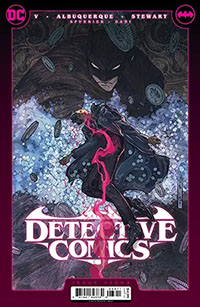 Detective Comics Vol 2 #1063 Cover A Regular Evan Cagle Cover
Old friends Bruce Wayne and Harvey Dent share a moment together asking: At what point does Gotham not need a Batman anymore? As Batman's investigation around Gotham leads him to encounter more and more demonic beings, the one thing they all have in common is…they're all people he fights to keep off the streets and behind bars. But when Two-Face appears asking Batman for help, is he friend or foe? And is whatever's going on with Batman already too late to do anything about?…Is he the detective or the devil?