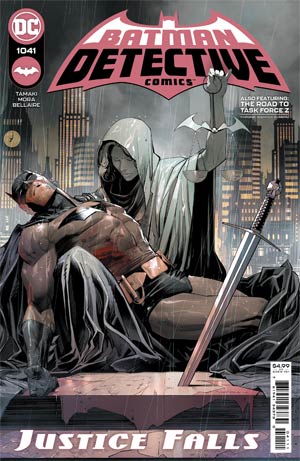 Published since the 1930's, Detective Comics is one of the longest running titles in all of comics. As the birthplace of Batman, the series has long focused on the Dark Knight solving the darkest mysteries of the DC Universe. But as time has passed, Batman has grown to trust other young heroes in his war on crime. With the likes of Batwoman, Red Robin, Spoiler, and more, Detective Comics is the everlasting home to the greatest crime stories from the world of DC Comics!
RECENT TALENT:
Writer:
Mariko Tamaki - Matthew Rosenberg
Artist:
Dan Mora - Darick Robertson
Tags for this comic:
» Rating » T
» Last Issue Processed » Detective Comics Vol 2 #1042 Cover A Regular Dan Mora Cover
May go Weekly in May/June - May Increase to 3.99
Cover Price: $59.88
You Save 40%
Your Price : $35.93
• 12 issue subscription
FREE U.S. SHIPPING
Please allow 6-8 weeks for delivery of your first issue.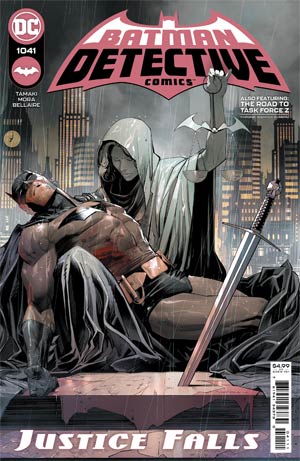 Detective Comics Vol 2 #1041 Cover A Regular Dan Mora Cover
As Gotham's Dark Knight of vengeance, Batman is seen by many (mostly criminals, let's be honest) as judge and executioner of the city's vilest villains. Well, it's time for him to meet the Jury! In a last-ditch effort to avenge his daughter's death, Mr. Worth has teamed with the Penguin's criminal empire, the Party Crashers gang, and the Falcone crime family to form the kind of villain team-up that would leave a Boy Wonder sweating in his booties. Backup: Countdown to Task Force Z: Part One! Deb Donovan is on the trail of some weird happenings in Gotham...missing bodies from the morgue...tales of shady criminal activity the likes of which Gotham has never seen...and the person trying to keep her quiet is...Batman?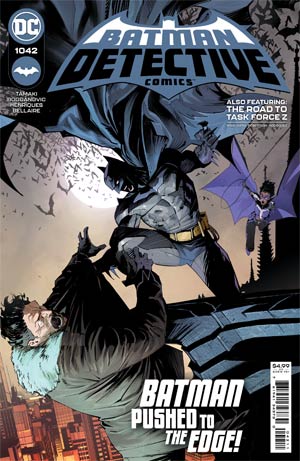 Detective Comics Vol 2 #1042 Cover A Regular Dan Mora Cover
Batman rampages through the underworld of Gotham! Driven to a violent madness courtesy of the Jury's "Vile" serum, the Dark Knight crushes bones, makes a scene, and gives costumed vigilantes in Gotham a very bad name. But will the Jury's plan backfire? Can a violent rage-machine packed with money, weapons, and an insatiable bloodlust possibly end well for Mr. Worth and his Jury? That giant plunge from a building might be the answer... Backup: Countdown to Task Force Z: Part Two! When Red Hood shows up in your apartment, you know you've done something drastically wrong. Jason Todd teams up with Deb Donovan to uncover the mysterious disappearances in Gotham, and their search brings them to the missing body of Bane! Look alive because death seems to be knocking at the door...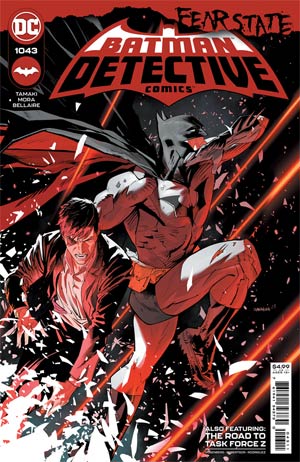 Detective Comics Vol 2 #1043 Cover A Regular Dan Mora Cover (Fear State Tie-In)
Fear State grips Gotham City! When Mayor Nakano's city hall office finds itself under siege, the only hero who can help the embattled local official is the man Nakano pledged to rid from Gotham: Batman. The top vigilante in the city must protect the man who's fought so hard to put an end to masked heroes in an action-packed car chase that culminates in a shocking ending that'll give readers nightmares. Backup: Wait, how did Red Hood end up in Deb Donovan's apartment? And what the hell gives him the right to eat all her frosted cereal? As Gotham's troubled son and the city's toughest reporter set out to uncover the mystery of the missing A-Day corpses, they run into more answers than they bargained for culminating in a deadly shoot out that renders Red Hood down for the count! Can Deb Donovan make it out alive to tell the tale of her harrowing adventure? And what will Red Hood's capture mean for the Bat-Family? It all leads to next month's terrifying new chapter in Gotham history: TASK FORCE Z!