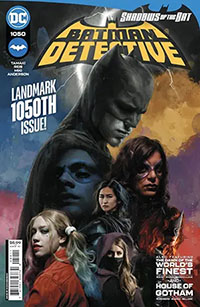 Published since the 1930's, Detective Comics is one of the longest running titles in all of comics. As the birthplace of Batman, the series has long focused on the Dark Knight solving the darkest mysteries of the DC Universe. But as time has passed, Batman has grown to trust other young heroes in his war on crime. With the likes of Batwoman, Red Robin, Spoiler, and more, Detective Comics is the everlasting home to the greatest crime stories from the world of DC Comics!
RECENT TALENT:
Writer:
Mariko Tamaki - Matthew Rosenberg - Mark Waid
Artist:
Ivan Reis - Danny Miki - Fernando Blanco - Dan Mora
Tags for this comic:
» Rating » T
» Last Issue Processed » Detective Comics Vol 2 #1041 Cover A Regular Dan Mora Cover
May go Weekly in May/June - May Increase to 3.99
Cover Price: $59.88
You Save 40%
Your Price : $35.93
• 12 issue subscription
FREE U.S. SHIPPING
Please allow 6-8 weeks for delivery of your first issue.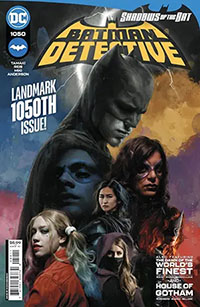 Detective Comics Vol 2 #1050 Cover A Regular Irvin Rodriguez Cover
It's the landmark, oversize issue Detective Comics #1050, and some of the biggest names in comics are here to celebrate the Dark Knight! First up in "The Tower" part four, the villainous force keeping Arkham Tower's patients sedated is at last revealed—and this villain's return is guaranteed to catch you by surprise! It's the dramatic conclusion to act one of Mariko Tamaki's Arkham Tower epic, brought to life by the legendary Ivan Reis! Then, in "House of Gotham" part four, Matthew Rosenberg and Fernando Blanco take us into the seedy underbelly of Gotham's criminal elite through the lens of the original Robin (Dick Grayson), and reveal what it takes for a young man to survive amongst the deadliest killers in the DCU. It's a tour de force of Gotham's vilest villains! Last but not least, making his grand return to the DCU, writer Mark Waid teams with Detective Comics uber-artist Dan Mora to bring you the start of a brand-new day for Batman…and Superman? It's the world's finest collaboration that you'll need to read to believe!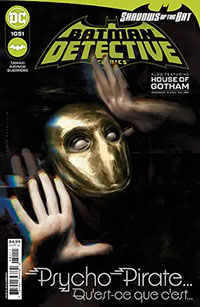 Detective Comics Vol 2 #1051 Cover A Regular Irvin Rodriguez Cover
Psycho-Pirate! Qu'est-ce que c'est? The mind manipulations of one of the DCU's most calamitous villains are revealed at the heart of Arkham Tower…but who's really calling the shots? As Batwoman's undercover operation takes a disastrous turn, Huntress finds her own mission inside the Tower growing more perilous by the moment! All is revealed in this explosive first chapter in act two of the "Shadows of the Bat" weekly event! Then, in "House of Gotham" part five, the Boy emerges from his Scarecrow caper with a new perspective on the world…but what's scarier: Dr. Crane's fear toxins, or Batman's control of Gotham's militarized youth?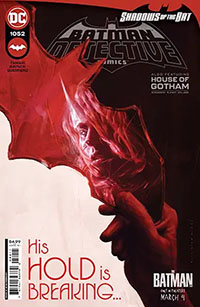 Detective Comics Vol 2 #1052 Cover A Regular Irvin Rodriguez Cover
"His hold is breaking!" That's the message written in blood across the minds of Arkham Tower's inhabitants, after a nightmare melee is unleashed! With Gotham's deadliest criminals reverting to their former, murderous selves in one horrific night, Dr. Wear has a lot of explaining to do…and a lot of covering up to perform. Can Nightwing get to the bottom of this mystery before the people of Arkham Tower are put in peril again? Plus, Batman's iron grip on Gotham is enough to drive the desperate to madness…and madness is on the mind of the Boy in part six of "House of Gotham." When an average night at coat check at the Iceberg Lounge turns into a violent battle royal between the Dark Knight and the Penguin, lines are blurred, people are hurt, and the Boy's descent into a life of crime deepens…