Published since the 1930's, Detective Comics is one of the longest running titles in all of comics. As the birthplace of Batman, the series has long focused on the Dark Knight solving the darkest mysteries of the DC Universe. But as time has passed, Batman has grown to trust other young heroes in his war on crime. With the likes of Batwoman, Red Robin, Spoiler, and more, Detective Comics is the everlasting home to the greatest crime stories from the world of DC Comics!
RECENT TALENT:
Tags for this comic:
» Rating » T
» Last Issue Processed » Detective Comics Vol 2 #1024 Cover A Regular Brad Walker & Andrew Hennessy Cover (Joker War Tie-In)
May go Weekly in May/June - May Increase to 3.99
Cover Price: $47.88
You Save 40%
Your Price : $28.96
• 12 issue subscription
FREE U.S. SHIPPING
Please allow 6-8 weeks for delivery of your first issue.
Detective Comics Vol 2 #1025 Cover A Regular Kenneth Rocafort Cover (Joker War Tie-In)
&QUOTThe Joker War&QUOTexplodes with an assault on Wayne Enterprises! The Joker has taken control of Waynetech R&D-and with it, all the weapons hidden in its sublevels-plus Lucius Fox as a hostage! The Joker and his clown-masked henchmen are now using Wayne Enterprises as an armory, using sophisticated 3-D printers to produce weapons to rule Gotham City...but Batman and Batwoman might have something to say about that. It's all-out action in this nonstop issue!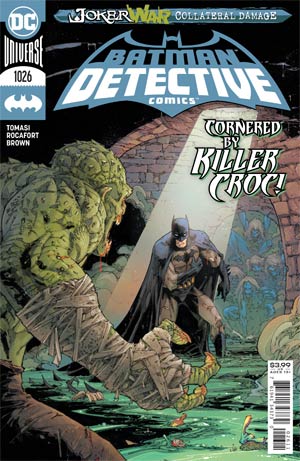 Detective Comics Vol 2 #1026 Cover A Regular Kenneth Rocafort Cover (Joker War Tie-In)
As &QUOTThe Joker War&QUOT rages on, the casualties are mounting, and the underground residents of Gotham City must deal with the devastating effects of the Joker toxin that's been pumped into the old city's tunnel system. Batman must risk everything to guide them to safety, but a familiar face has mobilized these forgotten souls to rise up in anger...and Killer Croc takes no prisoners!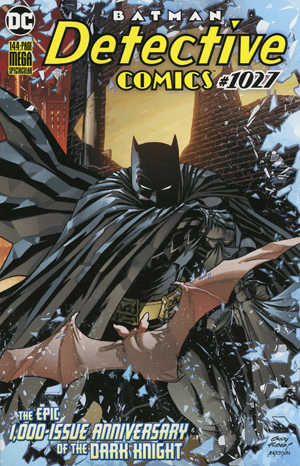 Detective Comics Vol 2 #1027 Cover A Regular Andy Kubert Wraparound Cover
Light the Bat-Signal, because Detective Comics #1027 is here! In honor of Batman's first appearance in Detective Comics #27, this special, book-size celebration brings you the biggest names in comics as they chronicle the most epic Batman adventures Gotham City and the DC Universe have ever seen! The World's Greatest Detective has a mountain of cases to crack: Who murdered Gotham's most corrupt police officer? What does The Joker's annual visit mean for Bruce Wayne? And most importantly, what WayneTech mystery will sow the seeds of the next epic Batman event? Plus, from the fires of &QUOTThe Joker War&QUOT comes the spark of a future Gotham City epic! All this and more await you within the pages of the biggest Batman issue of them all!