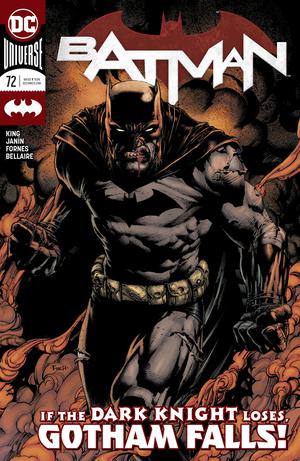 As a boy, young Bruce Wayne had his innocence ripped away from him in one tragic moment. Since that horrific night, he has sworn to defend the people of Gotham City! Armed with only his wit and a handful of fantastic gadgets, Batman inspires fear in those who prey upon the weak. Whether it be in the shadows of the city or the horrific halls of Arkham Asylum, the Dark Knight ensures that all who do harm shall feel the might of justice! He is vengeance, he is the night, he is Batman!
RECENT TALENT:
Tags for this comic:
» Rating » T
» Last Issue Processed » Batman Vol 3 #68 Cover A Regular Amanda Conner Cover
May go Weekly in May/June - May Increase to 3.99
Cover Price: $47.88
You Save 40%
Your Price : $28.96
• 12 issue subscription
FREE U.S. SHIPPING
Please allow 6-8 weeks for delivery of your first issue.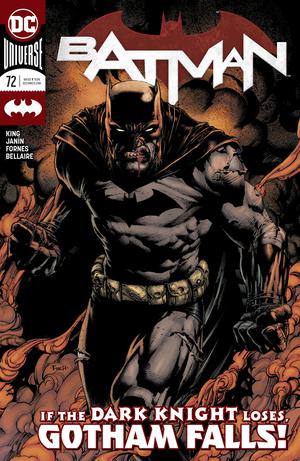 Batman Vol 3 #72 Cover A Regular David Finch Cover
&quotThe Fall and the Fallen&quot part three! Is this the end of Gotham City? Bane's army of villains is taking over the city, and Batman's back is against the wall. With all the things Bane has done to him over the last year-from breaking up his wedding to trying to assassinate Nightwing, and then invading Batman's mind to expose his most terrible fears-could this be the worst hate the Caped Crusader has ever encountered?
RATED T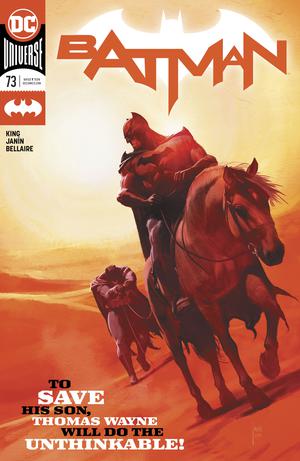 Batman Vol 3 #73 Cover A Regular Mikel Janin Cover
&quotThe Fall and the Fallen&quot part three! Is this the end of Gotham City? Bane's army of villains is taking over the city, and Batman's back is against the wall. With all the things Bane has done to him over the last year-from breaking up his wedding to trying to assassinate Nightwing, and then invading Batman's mind to expose his most terrible fears-could this be the worst hate the Caped Crusader has ever encountered?
RATED T