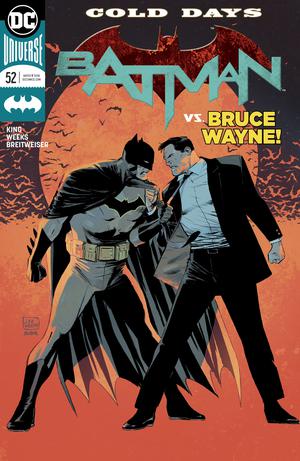 As a boy, young Bruce Wayne had his innocence ripped away from him in one tragic moment. Since that horrific night, he has sworn to defend the people of Gotham City! Armed with only his wit and a handful of fantastic gadgets, Batman inspires fear in those who prey upon the weak. Whether it be in the shadows of the city or the horrific halls of Arkham Asylum, the Dark Knight ensures that all who do harm shall feel the might of justice! He is vengeance, he is the night, he is Batman!
RECENT TALENT:
Tags for this comic:
» Rating » T
» Last Issue Processed » Batman Vol 3 #50 Cover A Regular Mikel Janin Cover
May go Weekly in May/June - May Increase to 3.99
Cover Price: $35.88
You Save 30%
Your Price : $24.99
• 12 issue subscription
FREE U.S. SHIPPING
Please allow 6-8 weeks for delivery of your first issue.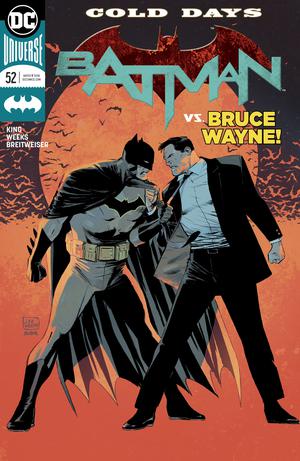 Batman Vol 3 #52 Cover A Regular Lee Weeks Cover
"'Cold Days' continues! The jury in the Mr. Freeze trial is hopelessly deadlocked because one man won't vote guilty-and that man is Bruce Wayne. Freeze's defense is that Batman used excessive force, making his arrest illegal, and Bruce is the one man who actually knows for sure what went down between Batman and his ice-cold nemesis. And if Bruce is right, that means everything he's devoted himself to as the Caped Crusader is a lie; he is hurting more than helping. With Dick Grayson putting the Batsuit back on to keep Gotham City safe while Bruce is sequestered, could this be the out Bruce needs to discard the cape and cowl forever? The Eisner Award-nominated team of Tom King and Lee Weeks reexamine the relationship between hero and foe, as Batman relives not just that one violent night when he took down the King of Cold, but every time the two have come to blows."