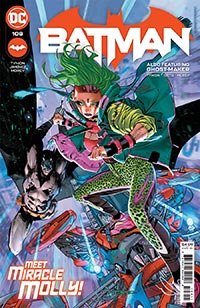 As a boy, young Bruce Wayne had his innocence ripped away from him in one tragic moment. Since that horrific night, he has sworn to defend the people of Gotham City! Armed with only his wit and a handful of fantastic gadgets, Batman inspires fear in those who prey upon the weak. Whether it be in the shadows of the city or the horrific halls of Arkham Asylum, the Dark Knight ensures that all who do harm shall feel the might of justice! He is vengeance, he is the night, he is Batman!
RECENT TALENT:
Artist:
Jorge Jimenez - Ricardo Lopez Ortiz
Tags for this comic:
» Rating » T
» Last Issue Processed » Batman Vol 3 #106 Cover A Regular Jorge Jimenez Cover
May go Weekly in May/June - May Increase to 3.99
Cover Price: $59.88
You Save 40%
Your Price : $35.93
• 12 issue subscription
FREE U.S. SHIPPING
Please allow 6-8 weeks for delivery of your first issue.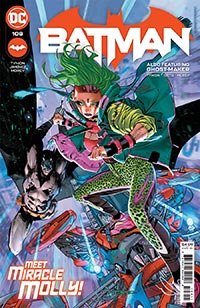 Batman Vol 3 #108 Cover A Regular Jorge Jimenez Cover
Batman goes undercover to infiltrate the transhumanist gang known as the Unsanity Collective and learn more about their sudden appearance in Gotham. And what nefarious plans does Simon Saint have for Arkham Day survivor Sean Mahoney? How does it connect to the Magistrate? And in part two of the action-packed, bone-rattling Ghost-Maker backup story...can our hero stand up to the horror of Kid Kawaii? Plus, don't miss the debut of the mysterious Miracle Molly!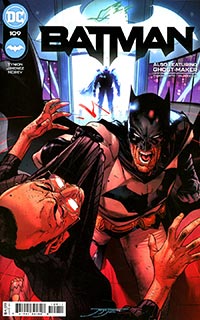 Batman Vol 3 #109 Cover A Regular Jorge Jimenez Cover
Main Story: Mayor Nakano green-lights the Magistrate pilot program for Gotham City as Batman goes toe-to-toe with the augmented and bloodthirsty Peacekeeper-01! It's a brutal battle for the ages, but what secrets does Harley Quinn hold about the man beneath the armor, Sean Mahoney? And how does this all play in to the Scarecrow's hands?! Backup: Ghost-Maker is fighting through incredible odds to reach the nefarious Madame Midas...but will his next opponent—BRAINSTORM—be impossible to overcome?!