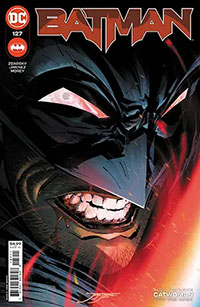 As a boy, young Bruce Wayne had his innocence ripped away from him in one tragic moment. Since that horrific night, he has sworn to defend the people of Gotham City! Armed with only his wit and a handful of fantastic gadgets, Batman inspires fear in those who prey upon the weak. Whether it be in the shadows of the city or the horrific halls of Arkham Asylum, the Dark Knight ensures that all who do harm shall feel the might of justice! He is vengeance, he is the night, he is Batman!
RECENT TALENT:
Artist:
Jorge Jimenez - Belen Ortega
Tags for this comic:
» Rating » T
» Last Issue Processed » Batman Vol 3 #125 Cover A Regular Jorge Jimenez Cover
May go Weekly in May/June - May Increase to 3.99
Cover Price: $59.88
You Save 40%
Your Price : $35.93
• 12 issue subscription
FREE U.S. SHIPPING
Please allow 6-8 weeks for delivery of your first issue.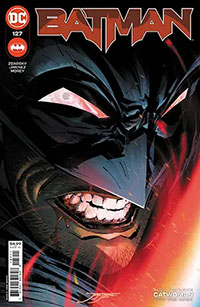 Batman Vol 3 #127 Cover A Regular Jorge Jimenez Cover
With brutal efficiency, Failsafe hunts the Dark Knight, leaving a trail of injured heroes! Batman retreats to the manor as he prepares for a final assault...will the last few surprises he has in store be enough? And in the backup, Catwoman reaches a shocking conclusion in her search!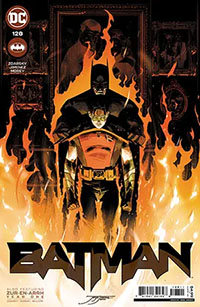 Batman Vol 3 #128 Cover A Regular Jorge Jimenez Cover
Failsafe has taken his family, his allies, and now his city...Broken and beaten, Batman retreats to the last place on Earth he can hide...but nothing can truly hide from Failsafe! In the backup...Batman has prepared his mind for anything, or so he thought. We go back to his early days and a chilling case that led to...Failsafe!