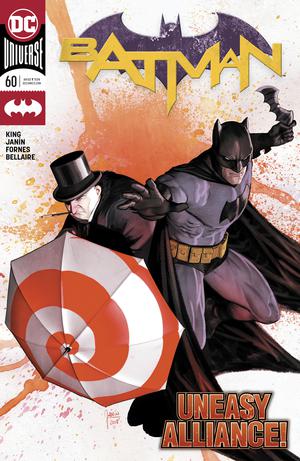 As a boy, young Bruce Wayne had his innocence ripped away from him in one tragic moment. Since that horrific night, he has sworn to defend the people of Gotham City! Armed with only his wit and a handful of fantastic gadgets, Batman inspires fear in those who prey upon the weak. Whether it be in the shadows of the city or the horrific halls of Arkham Asylum, the Dark Knight ensures that all who do harm shall feel the might of justice! He is vengeance, he is the night, he is Batman!
RECENT TALENT:
Tags for this comic:
» Rating » T
» Last Issue Processed » Batman Vol 3 #56 Cover A Regular Tony S Daniel Enhanced Foil Cover
May go Weekly in May/June - May Increase to 3.99
Cover Price: $35.88
You Save 30%
Your Price : $24.99
• 12 issue subscription
FREE U.S. SHIPPING
Please allow 6-8 weeks for delivery of your first issue.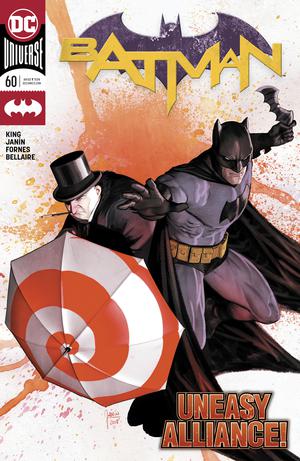 Batman Vol 3 #60 Cover A Regular Mikel Janin Cover
Batman takes on a new partner, and it's…the Penguin? After rejecting Bane's crime-boss co-op, Cobblepot finds himself in the crosshairs of some very teed-off villains. The feathered felon turns to his old foe to snitch on Bane's scheme, but has to prove his intentions to avoid a Bat-beatdown. Along the way, this Gotham odd couple begins to bond-could there be a new bird joining the Bat-Family? Not if Bane has anything to say about it…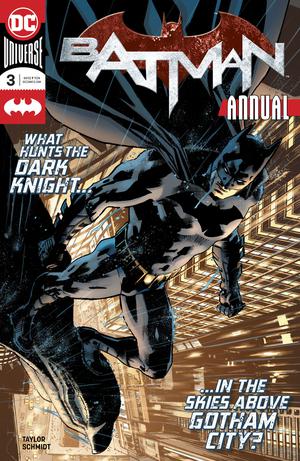 Batman Vol 3 Annual #3
&quotTHE OTHER SIDE OF THE PENNY!&quot Alfred Pennyworth has been Batman's most trusted ally and confidant since the Dark Knight first hit the streets of Gotham City. Now, witness Batman's battle for justice from Alfred's perspective and learn how harrowing that journey has been as Batman experiences one of the worst nights Gotham City has ever seen-a night that will push Alfred to the breaking point! Best-selling writer Tom Taylor presents an epic tale that promises to be one of the most Alfred stories ever told!