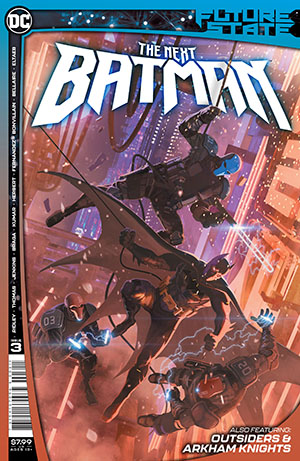 As a boy, young Bruce Wayne had his innocence ripped away from him in one tragic moment. Since that horrific night, he has sworn to defend the people of Gotham City! Armed with only his wit and a handful of fantastic gadgets, Batman inspires fear in those who prey upon the weak. Whether it be in the shadows of the city or the horrific halls of Arkham Asylum, the Dark Knight ensures that all who do harm shall feel the might of justice! He is vengeance, he is the night, he is Batman!
RECENT TALENT:
Tags for this comic:
» Rating » T
» Last Issue Processed » Batman Vol 3 #103 Cover A Regular Jorge Jimenez Cover
May go Weekly in May/June - May Increase to 3.99
Cover Price: $47.88
You Save 40%
Your Price : $28.96
• 12 issue subscription
FREE U.S. SHIPPING
Please allow 6-8 weeks for delivery of your first issue.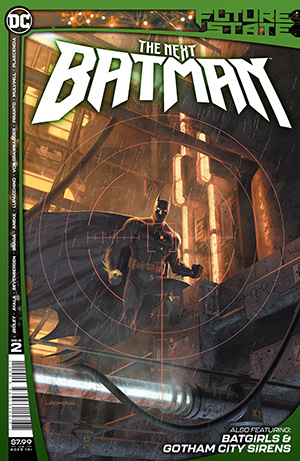 Future State The Next Batman #2 Cover A Regular Ladronn Cover
In this second Future State: Batman chapter, wearing a mask in Gotham City is now a crime—and when it's compounded with murder, it can be a shoot-on-sight offense! Batman is on the trail of a murderous couple but quickly finds that all is not as it seems...and finds himself in the firing line of the Magistrate and their Peacekeepers! The gritty, street-level adventures of the new Dark Knight continue! Also in this issue, Batgirls Cassandra Cain and Stephanie Brown find themselves in a prison where the Magistrate throws heroes and villains alike! What no one knows, though, is that Cassandra was sent there with a mission… And in a story of the Gotham City Sirens, some girls just want to have fun—so what do you do when you find Gotham City in turmoil and overrun by Cybers? You go shopping, of course! Join Catwoman, Poison Ivy, and a new Siren on a gal's night out. They're on the town, looking for trouble…and finding it!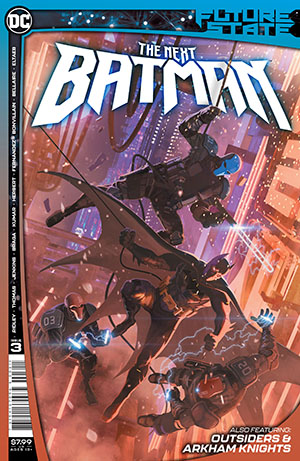 Future State The Next Batman #3 Cover A Regular Ladronn Cover
The adventures of the next Batman continue! Batman has captured a pair of murderous fugitives, but he faces a tough decision: leave them for the Magistrate troops, which means certain death, or risk his life and fight his way through Gotham City to deliver them to the GCPD for trial. He's Batman...so there's only one choice! And in "Outsiders," Katana has reunited with Black Lightning, but her old friend and ally has changed...big-time! Now composed of literal black lightning, Jefferson Pierce arrives with a dire warning about Duke Thomas and his mission to liberate Gotham from the oppression of the Magistrate. They'll have to work together—and we really mean together—to have any hope of defeating the forces working against them! Plus, in "Arkham Knights," Astrid Arkham and her band of maniacal misfits have picked a fight with the Magistrate...and they're not going to back down! On the eve of their mission into the heart of Gotham's fascist occupiers, Croc, Zsasz, Phosphorus, Clayface, Harvey, and the rest steel themselves to try and shine a beacon of hope into the darkness—but not everyone will make it out alive!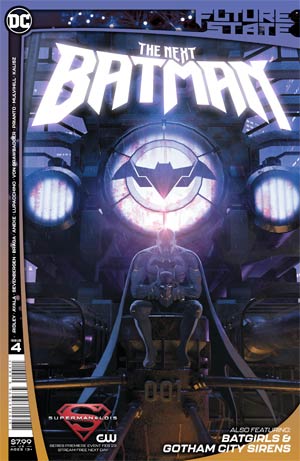 Future State The Next Batman #4 Cover A Regular Ladronn Cover
The next Batman goes head-to-head with the Magistrate's shock troops to protect the...guilty?! It's a savage running battle across Gotham City, and it will have the next Dark Knight fighting overwhelming odds to prove that justice still lives in the heart of a broken city. In the finale of "Batgirls," after discovering the person locked in the high-security cell is the one who's been sending out "Batman Lives" signals to the Resistance, Stephanie Brown and Cassandra Cain must work together to make sure they take that person when they escape their prison! Plus, in the conclusion of "Gotham City Sirens," Catwoman and the new android Siren hide out in Poison Ivy's newly built paradise, where they discuss their past relationships, including what Catwoman has—or had—with Batman. But when Peacekeeper forces arrive, the new Siren will have to make a sacrifice to save her friends.