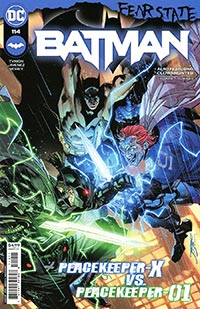 As a boy, young Bruce Wayne had his innocence ripped away from him in one tragic moment. Since that horrific night, he has sworn to defend the people of Gotham City! Armed with only his wit and a handful of fantastic gadgets, Batman inspires fear in those who prey upon the weak. Whether it be in the shadows of the city or the horrific halls of Arkham Asylum, the Dark Knight ensures that all who do harm shall feel the might of justice! He is vengeance, he is the night, he is Batman!
RECENT TALENT:
Writer:
James Tynion IV - Brandon Thomas
Artist:
Jorge Jimenez - Jason Howard
Tags for this comic:
» Rating » T
» Last Issue Processed » Batman Vol 3 #115 Cover A Regular Jorge Jimenez Cover (Fear State Tie-In)
May go Weekly in May/June - May Increase to 3.99
Cover Price: $59.88
You Save 40%
Your Price : $35.93
• 12 issue subscription
FREE U.S. SHIPPING
Please allow 6-8 weeks for delivery of your first issue.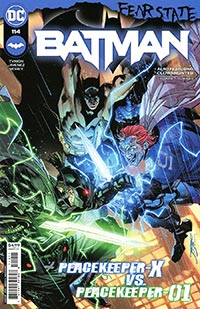 Batman Vol 3 #114 Cover A Regular Jorge Jimenez Cover (Fear State Tie-In)
Batman is racing against time to stop Gotham City from tearing itself apart as the Scarecrow's long game is revealed. The Dark Knight has bigger problems though, as an insane Peacekeeper-01 is on a murderous rampage through the streets of Gotham! Can Peackeeper-X stop him?! Back-Up: Clownhunter has been doused with Fear Toxin at the hands of the Scarecrow, and he is living out every anxiety, moment of pain, and heartbreak he's ever had. Will he find his way out and resume his goal of being Gotham's protector from clowns? Or will he succumb to Scarecrow's greatest mind game yet?! See the end of this epic story that will change Clownhunter's trajectory in Gotham City forever!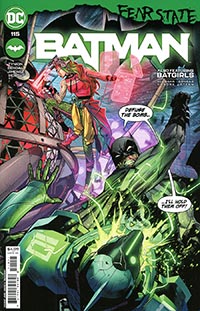 Batman Vol 3 #115 Cover A Regular Jorge Jimenez Cover (Fear State Tie-In)
Batman and Miracle Molly are all that stands between Gotham City and absolute insanity! But an unhinged Simon Saint brings all the resources of the Magistrate to bear on the Dark Knight…is victory at hand for the Scarecrow? Back-Up: Batgirls Cassandra Cain and Stephanie Brown have each other's backs no matter what—even if it means punching some Magistrate soldier butt, and putting an even bigger target on their backs. Meanwhile, a mysterious Anti-Oracle character finally makes contact directly with Babs and has a few things to say about the unethical nature of Oracle's powers, and what they think should be done about it.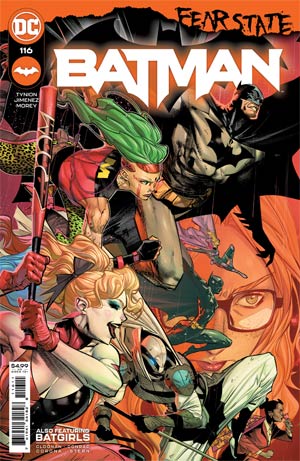 Batman Vol 3 #116 Cover A Regular Jorge Jimenez Cover (Fear State Tie-In)
The only thing standing between an insane, heavily armed Peacekeeper-01 and a high body count in Gotham City is Batman. Their first bout didn't go well for the Dark Knight, but the city is on the line and he can't let the Scarecrow's master plan come to fruition…and whose side is Miracle Molly truly on? The penultimate chapter of "Fear State"! Backup: With the Bat comms unreliable, Oracle has instructed the Batgirls to stay in the Clock Tower while she and Nightwing investigate who's behind the Oracle Network hacks. But with the Magistrate's forces instructed to attack the Clock Tower, will the Batgirls make it out before it's too late?