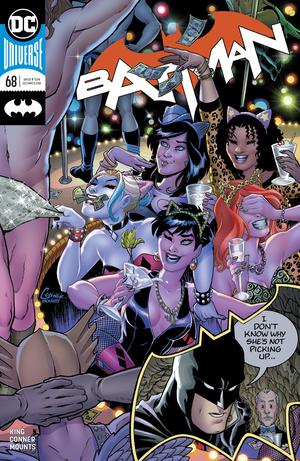 As a boy, young Bruce Wayne had his innocence ripped away from him in one tragic moment. Since that horrific night, he has sworn to defend the people of Gotham City! Armed with only his wit and a handful of fantastic gadgets, Batman inspires fear in those who prey upon the weak. Whether it be in the shadows of the city or the horrific halls of Arkham Asylum, the Dark Knight ensures that all who do harm shall feel the might of justice! He is vengeance, he is the night, he is Batman!
RECENT TALENT:
Tags for this comic:
» Rating » T
» Last Issue Processed » Batman Vol 3 #69 Cover A Regular Yanick Paquette Cover
May go Weekly in May/June - May Increase to 3.99
Cover Price: $47.88
You Save 40%
Your Price : $28.96
• 12 issue subscription
FREE U.S. SHIPPING
Please allow 6-8 weeks for delivery of your first issue.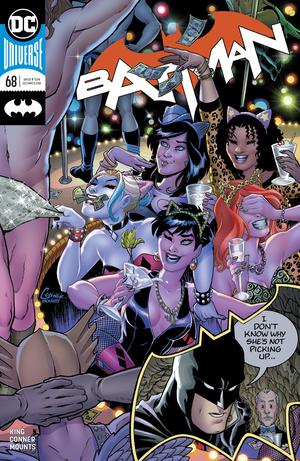 Batman Vol 3 #68 Cover A Regular Amanda Conner Cover
Batman is making his way to the end of his Knightmares, but his unseen enemy has a few more tricks up his sleeve. It's time once again to stick a knife into the Caped Crusader's broken heart, letting the groom-that-could-have-been peer in on the bachelorette (or should that be &quotCatchelorette&quot?) party that never was. Artist Amanda Conner (Harley Quinn) rejoins the Bat-family for this month's special story-because who else you gonna invite to a shindig like this?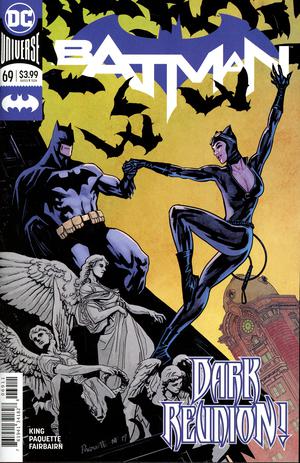 Batman Vol 3 #69 Cover A Regular Yanick Paquette Cover
The Dark Knight is breaking through the bad dreams and coming out the other side. But is he ready for the culprit waiting through the veil of terror? And what lasting effects might this whole ordeal have on Bruce Wayne's psyche? With artist Yanick Paquette (WONDER WOMAN: EARTH ONE) jumping on board to tackle the art, &quotKnightmares&quot comes to a shocking close. This will be the strangest issue yet-a no-holds-barred journey through Bat-man's psyche via the inner workings of Arkham Asylum, setting up the next big chapter of Tom King's epic BATMAN tale. Batman's future starts now!