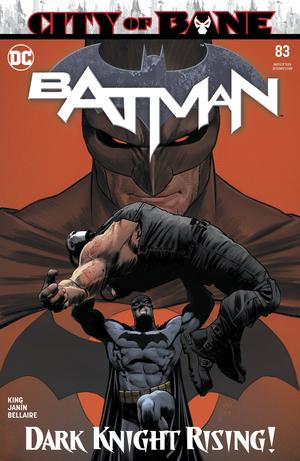 As a boy, young Bruce Wayne had his innocence ripped away from him in one tragic moment. Since that horrific night, he has sworn to defend the people of Gotham City! Armed with only his wit and a handful of fantastic gadgets, Batman inspires fear in those who prey upon the weak. Whether it be in the shadows of the city or the horrific halls of Arkham Asylum, the Dark Knight ensures that all who do harm shall feel the might of justice! He is vengeance, he is the night, he is Batman!
RECENT TALENT:
Tags for this comic:
» Rating » T
» Last Issue Processed » Batman Vol 3 #84 Cover A Regular Mikel Janin Cover
May go Weekly in May/June - May Increase to 3.99
Cover Price: $47.88
You Save 40%
Your Price : $28.96
• 12 issue subscription
FREE U.S. SHIPPING
Please allow 6-8 weeks for delivery of your first issue.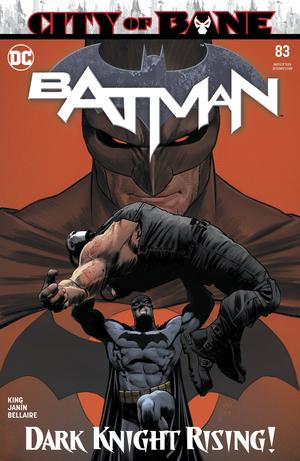 Batman Vol 3 #83 Cover A Regular Mikel Janin Cover
It's chapter nine of &quotCity of Bane,&quot and it's time for a reckoning in Gotham City! Thomas Wayne has joined forces with Bane, and that alliance threatens to throw a monkey wrench into Batman's plans. And as Bane's evil army begins to crumble, the Caped Crusader must face the real force behind it all. As the end of this epic tale grows near, Batman and his allies have a choice: let Bane stay in power and guarantee the city's survival, or risk everything to break free!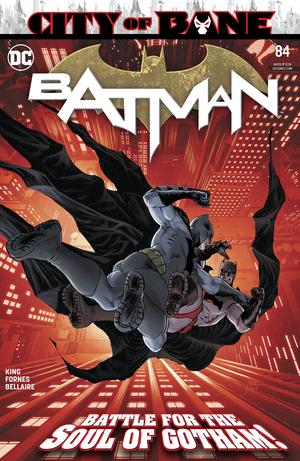 Batman Vol 3 #84 Cover A Regular Mikel Janin Cover
&quotCity of Bane&quot chapter eleven! The end is near as one victory leads to another defeat. As Batman reclaims his city from Bane, can he regain his sense of family? More specifically, when a man who is your father from another dimension has torn everything down around you, what will it take to build it back up? Especially when that man is currently staring you in the face and threatening to punch it. The final battle for Gotham City...and the cowl of the Caped Crusader...starts here!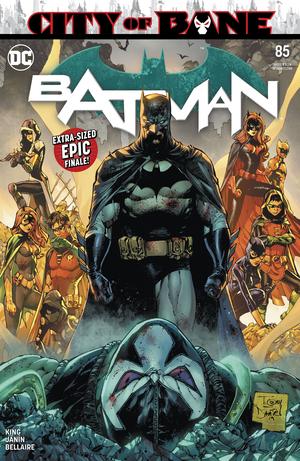 Batman Vol 3 #85 Cover A Regular Tony S Daniel Cover
The stunning conclusion to &quotCity of Bane&quot is here! How will Flashpoint Batman be vanquished from our dimension? What will become of Gotham Girl now that she's betrayed all she knows? How will the Bat team cope without Alfred? Will Catwoman stick around? Who will rebuild Gotham City? Is Batman ever going to be Batman again? The event of the summer now closes out the year, setting the stage for a whole new path for the Dark Knight Detective. You don't dare miss the extra-sized concluding chapter to Tom King's epic run on Batman-and it all leads to the new Batman and Catwoman series!