The series that starting it all! In 1938, Superman debuted in the pages of Action Comics #1 and took the world by storm! Since then, the book has been the premiere place to find the adventures of the Man of Steel and his fantastic friends and family! When danger calls, Superman is faster than a speeding bullet, defending the values of truth, justice, and American way! Now continuing as DC's longest running continued series, Action Comics is home to Superman, Lois Lane, and their son Jon, the sensational Superboy! Get in on the action!
RECENT TALENT:
Writer:
Phillip Kennedy Johnson - Becky Cloonan - Michael W. Conrad
Artist:
Daniel Sampere - Michael Avon Oeming
Tags for this comic:
» Rating » T
» Last Issue Processed » Future State Superman Of Metropolis #1 Cover A Regular John Timms Cover
May go Weekly in May/June - May Increase to 3.99
Cover Price: $59.88
You Save 40%
Your Price : $35.93
• 12 issue subscription
FREE U.S. SHIPPING
Please allow 6-8 weeks for delivery of your first issue.
Action Comics Vol 2 #1030 Cover A Regular Mikel Janin Cover
&quotWarworld Rising&quot starts here! A new chapter in Superman's life begins as the challenges of Dark Nights: Death Metal are causing Clark Kent to feel...a change in his powers. Is it possible the Metropolis Marvel could be losing a step? His struggles in taking down the creatures from the Breach would suggest as much! If he's going to continue to protect the people of Earth, he'll have to adapt—especially with threats like Mongul out there waiting to launch their biggest attacks on the Earth yet. That's right, those are Warworld battleships just outside our orbit, and they are heading straight for us! Meanwhile, in the Midnighter backup story, the bad boy of the Authority has to figure out what Andrej Trojan is up to in the present if he ever wants to get back to Future State and swap places with the Midnighter of 2021, whom he left stranded on Warworld.
Action Comics Vol 2 #1031 Cover A Regular Mikel Janin Cover
"Warworld Rising" part two! After a war-torn battleship escapes Warworld and makes the perilous journey to Earth, Superman searches for answers about the identities of its mysterious refugees and their apparent link to the planet Krypton. Could there be other Kryptonians in the universe? Meanwhile, Atlantean scientists study the wreckage of the Warworld vessel…and make a shocking discovery that could change the balance of power on Earth. And in the backup story, stuck in the wrong timeline, Midnighter continues to gather intel on the Chrysalis in hopes of finding an answer. But will it cost him his relationship with Apollo? And who is being held captive at Trojan Solutions?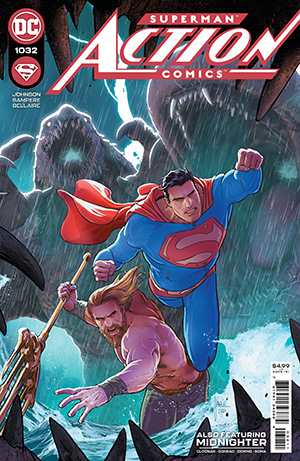 Action Comics Vol 2 #1032 Cover A Regular Mikel Janin Cover
Warworld Rising, part three! As the Superman family fights to keep the mysterious refugees alive, they find shocking answers about their lost colony. Meanwhile, Atlantis faces destruction by a host of supernaturally powerful sea kaiju, apparently created by the newfound "Warworld fragment"! As other world governments come to understand the devastating power Atlantis now possesses, tensions rise, and the threat of global war looms closer. As this goes on, back in Metropolis, the time-flung version of Midnighter digs deeper into Trojan's dirty scheme.