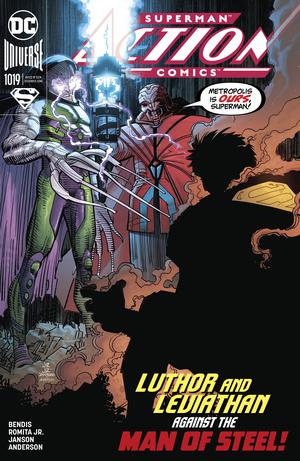 The series that starting it all! In 1938, Superman debuted in the pages of Action Comics #1 and took the world by storm! Since then, the book has been the premiere place to find the adventures of the Man of Steel and his fantastic friends and family! When danger calls, Superman is faster than a speeding bullet, defending the values of truth, justice, and American way! Now continuing as DC's longest running continued series, Action Comics is home to Superman, Lois Lane, and their son Jon, the sensational Superboy! Get in on the action!
RECENT TALENT:
Writer:
Brian Michael Bendis
Tags for this comic:
» Rating » T
» Last Issue Processed » Action Comics Vol 2 #1017 Cover A Regular John Romita Jr & Klaus Janson Acetate Cover (Year Of The Villain Tie-In)
May go Weekly in May/June - May Increase to 3.99
Cover Price: $47.88
You Save 40%
Your Price : $28.96
• 12 issue subscription
FREE U.S. SHIPPING
Please allow 6-8 weeks for delivery of your first issue.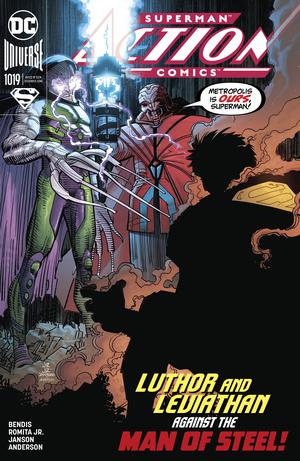 Action Comics Vol 2 #1019 Cover A Regular John Romita Jr & Klaus Janson Cover
One of the biggest battles in Superman history tears through Metropolis as the super-villain team-up of Lex Luthor, the Legion of Doom, and Leviathan come to change Superman's city forever! The blockbuster creative team of writer Brian Michael Bendis and artists John Romita Jr. and Klaus Janson create a Superman epic for the ages-as the Man of Steel deals with the public disclosure of his secret identity!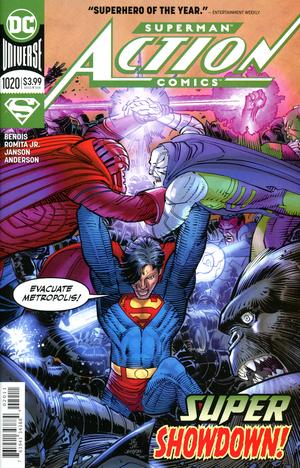 Action Comics Vol 2 #1020 Cover A Regular John Romita Jr & Klaus Janson Cover
Apex Lex Luthor's first run-in with the Infected didn't go as planned, and the Batman Who Laughs' influence is continuing to spread. Now Lex must find out who in the world can think like the Batman Who Laughs-and there are only two folks who come to mind. The first is Batman, who probably has his own ideas for Lex; the other is The Joker, who also likely has his own ideas, but who just maybe wants to see this twisted doppelgänger sent back to the Dark Multiverse he came from. It's a gamble Lex has to take, because the Infected are gearing up for round two!