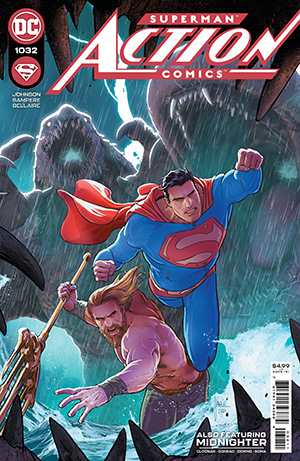 The series that starting it all! In 1938, Superman debuted in the pages of Action Comics #1 and took the world by storm! Since then, the book has been the premiere place to find the adventures of the Man of Steel and his fantastic friends and family! When danger calls, Superman is faster than a speeding bullet, defending the values of truth, justice, and American way! Now continuing as DC's longest running continued series, Action Comics is home to Superman, Lois Lane, and their son Jon, the sensational Superboy! Get in on the action!
RECENT TALENT:
Writer:
Phillip Kennedy Johnson - Michael W. Conrad - Becky Cloonan
Artist:
Daniel Sampere - Michael Avon Oeming
Tags for this comic:
» Rating » T
» Last Issue Processed » Action Comics Vol 2 #1029 Cover A Regular Phil Hester & Eric Gapstur Cover
May go Weekly in May/June - May Increase to 3.99
Cover Price: $59.88
You Save 40%
Your Price : $35.93
• 12 issue subscription
FREE U.S. SHIPPING
Please allow 6-8 weeks for delivery of your first issue.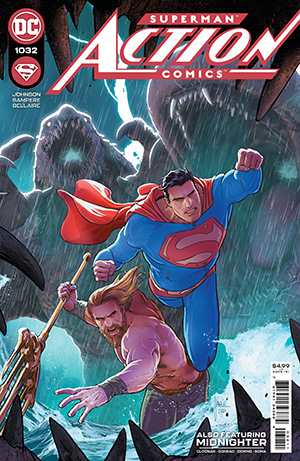 Action Comics Vol 2 #1032 Cover A Regular Mikel Janin Cover
Warworld Rising, part three! As the Superman family fights to keep the mysterious refugees alive, they find shocking answers about their lost colony. Meanwhile, Atlantis faces destruction by a host of supernaturally powerful sea kaiju, apparently created by the newfound "Warworld fragment"! As other world governments come to understand the devastating power Atlantis now possesses, tensions rise, and the threat of global war looms closer. As this goes on, back in Metropolis, the time-flung version of Midnighter digs deeper into Trojan's dirty scheme.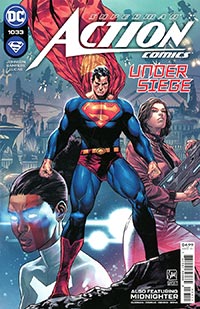 Action Comics Vol 2 #1033 Cover A Regular Daniel Sampere Cover
Atlantis is under attack! Taking in the Warworld refugees also means taking possession of the deadly Warworld tech they brought with them, and holding that much power makes the undersea kingdom a threat to the rest of the world. Can Superman move fast enough to prevent all-out war? Doing so may mean taking the power into his own hands… Meanwhile, some of the escaped Warworld prisoners have found the Fortress of Solitude…and along with it, Lois Lane! In our second feature, Midnighter has gone deep into the Trojan compound and found a very unexpected guest whose path he crossed in Future State—none other than Mister Miracle!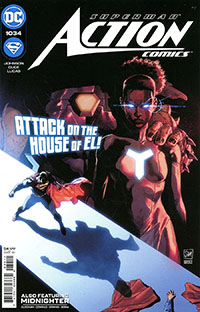 Action Comics Vol 2 #1034 Cover A Regular Daniel Sampere Cover
The Warzoons make their way to the doorstep of the Fortress of Solitude and only Lois Lane and the alien girl Thao-La are there to defend it. That's because Superman is halfway around the world trying to stop the U.S. from declaring war on Atlantis. The Man of Steel must make a tough choice, and odds are, no one walks away happy. Elsewhere in Metropolis, Midnighter moves closer to the center of Trojan's empire in the penultimate chapter of his back-up adventure. The story finishes later this month with the Midnighter 2021 Annual.