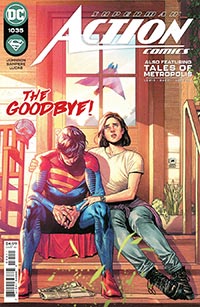 The series that starting it all! In 1938, Superman debuted in the pages of Action Comics #1 and took the world by storm! Since then, the book has been the premiere place to find the adventures of the Man of Steel and his fantastic friends and family! When danger calls, Superman is faster than a speeding bullet, defending the values of truth, justice, and American way! Now continuing as DC's longest running continued series, Action Comics is home to Superman, Lois Lane, and their son Jon, the sensational Superboy! Get in on the action!
RECENT TALENT:
Writer:
Phillip Kennedy Johnson - Sean Lewis
Artist:
Daniel Sampere - Sami Basri
Tags for this comic:
» Rating » T
» Last Issue Processed » Action Comics Vol 2 #1035 Cover A Regular Daniel Sampere Cover
May go Weekly in May/June - May Increase to 3.99
Cover Price: $59.88
You Save 40%
Your Price : $35.93
• 12 issue subscription
FREE U.S. SHIPPING
Please allow 6-8 weeks for delivery of your first issue.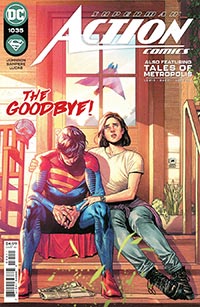 Action Comics Vol 2 #1035 Cover A Regular Daniel Sampere Cover
Superman keeps the abandoned Warworld weapon out of the hands of anyone who might misuse it. But now the Justice League questions his judgment. It's time for Clark Kent to put up or shut up. In &quotTales of Metropolis,&quot the Guardian comes to the city. Is this another step toward Future State?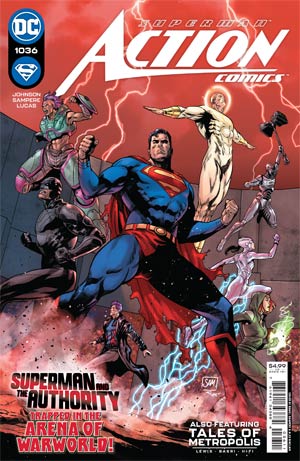 Action Comics Vol 2 #1036 Cover A Regular Daniel Sampere Cover
THE WARWORLD SAGA BEGINS! After learning of an enslaved race with mysterious ties to Krypton, Superman and the Authority travel across the galaxy to dethrone the new Mongul and liberate Warworld. Introducing new characters and a new corner of the DC Universe, the biggest Superman event since the Death and Return of Superman begins HERE!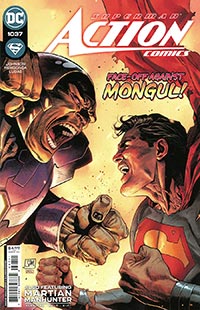 Action Comics Vol 2 #1037 Cover A Regular Daniel Sampere Cover
The Warworld Saga, Part II, and THE FACE-OFF YOU'VE BEEN WAITING FOR! SUPERMAN AND THE AUTHORITY finally face MONGUL and his champions head-on! The fates of Warworld and all who live under Mongul's rule hang in the balance…but He Who Holds All Chains is better prepared than Superman knows. Not everyone walks away from this one!