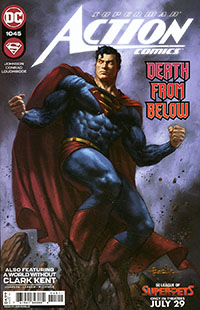 The series that starting it all! In 1938, Superman debuted in the pages of Action Comics #1 and took the world by storm! Since then, the book has been the premiere place to find the adventures of the Man of Steel and his fantastic friends and family! When danger calls, Superman is faster than a speeding bullet, defending the values of truth, justice, and American way! Now continuing as DC's longest running continued series, Action Comics is home to Superman, Lois Lane, and their son Jon, the sensational Superboy! Get in on the action!
RECENT TALENT:
Writer:
Phillip Kennedy Johnson
Artist:
Riccardo Federici - David Lapham
Tags for this comic:
» Rating » T
» Last Issue Processed » Action Comics Vol 2 #1042 Cover A Regular Riccardo Federici Cover
May go Weekly in May/June - May Increase to 3.99
Cover Price: $59.88
You Save 40%
Your Price : $35.93
• 12 issue subscription
FREE U.S. SHIPPING
Please allow 6-8 weeks for delivery of your first issue.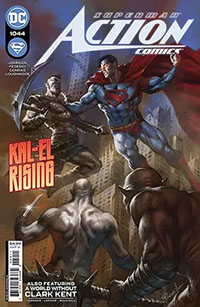 Action Comics Vol 2 #1044 Cover A Regular Lucio Parrillo Cover
The Warworld Revolution is here! With the Genesis Stone feeding Kal-El a portion of his long-dormant powers, the quest to overthrow Mongul's tyrannical rule is well under way...but can Superman convince the war-torn combatants of this hellish nightmare planet that kindness can best cruelty? All this, plus Midnighter stabs some fools who had it coming! Then, in &quotA World Without Clark Kent,&quot Lois, Jon, and John Henry Irons (a.k.a. Steel) convene to unlock the secrets of the mysterious Genesis tech...and Thao-La awakens...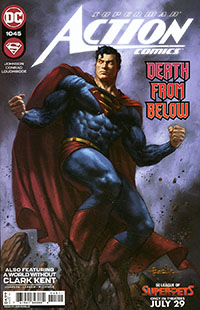 Action Comics Vol 2 #1045 Cover A Regular Lucio Parrillo Cover
The Warworld Revolution escalates as Superman gains the upper hand, forcing Mongul to take desperate measures. Meanwhile, a fallen ally of Superman is resurrected…at a terrible cost. A new connection to Jack Kirby's Fourth World is revealed as the Warworld Saga's mind-blowing conclusion nears! Then, in "A World Without Clark Kent"—Lois Lane and John Henry Irons race against time to save Thao-La, testing the limits of the mysterious element Genesis!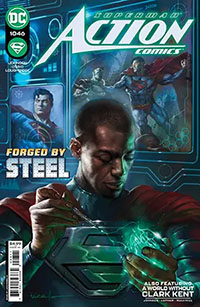 Action Comics Vol 2 #1046 Cover A Regular Lucio Parrillo Cover
The climactic battle for the fate of Warworld is fast approaching, and the Authority is finally reunited…but no longer as allies! As Superman fights to retrieve a mythical ancient weapon that can free the people of Warworld, Natasha Irons, Midnighter, and O.M.A.C. fight for the souls of their own teammates. Meanwhile, in the Fortress of Solitude: it's all hands on deck as the entire Super-family joins forces to recover the Genesis fragment from one of Superman's earliest classic enemies!